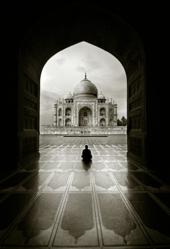 The centerpiece of the series is the photo entitled Solitude, which has won numerous awards.
Riyadh, Saudi Arabia (PRWEB) May 01, 2012
Award-winning photographer Thamer Al-Tassan has just released his newest artistic series featuring Taj Mahal photos. Al-Tassan's photographs reveal a more gritty perspective than the usual pristine color "Taj-on-the-water" panoramic view. The centerpiece of the series is the photo entitled Solitude, which has won numerous awards. In Solitude, we find a lone man sitting before a corridor-framed black-and-white Taj Mahal. Al-Tassan said his goal was to "inspire people to look at architecture from an artistic perspective." Reviewers write of the piece:
"I love everything about this photo, and it makes me wish I was there to experience it firsthand." – Trey Ratcliff, StuckInCustoms.com
"We have all seen a million photographs of the Taj Mahal, so it is quite an achievement to get a picture that makes you go wow!" – Will Burrard-Lucas, EarthShots.org
The Taj Mahal of Agra, India, one of the Seven Wonders of the World, was built between 1630 and 1653, commissioned by Emperor Shah Jahan. Despondent over the death of his beloved wife Mumtaz, Emperor Jahan envisioned it to be a shrine in her memory. This Indo-Islamic structure now serves as a tourist destination and a symbol of eternal love world-wide.
"The Taj Mahal has a certain mystique to it since it was built out of passion. I am also a fan of Islamic architecture, especially mosques. I was challenging myself to come up with photos that I have never seen before," said Al-Tassan of his series. The collection includes more than 15 Taj Mahal photos, some color, some black-and-white.
Al-Tassan's architecture photos have been featured in publications such as Digital Photographer, Amateur Photographer, and Digital Camera magazines. He received the 2008 and 2009 Digital Photographer "Digital Photographer of the Year" award. More recently, he received a 2010 "iPhone Photography Award", for photos taken with an iPhone. His work has also been displayed around the world in special exhibits within the United States, the United Kingdom, and Saudi Arabia.
Al-Tassan graduated from the University of Tampa, Florida, with Bachelor of Science in computer information systems. He currently makes his living in electronic media and digital marketing in Riyadh, Saudi Arabia. He is relatively new to photography. Taking photography up as a hobby in 2004, he studied by examining the works of others, experimentation, and via tutorials on the Web. His love of architecture and reflections photography is evident in many of his photographs. His photos capture unique perspectives from cities such as New York, Paris, and Istanbul.