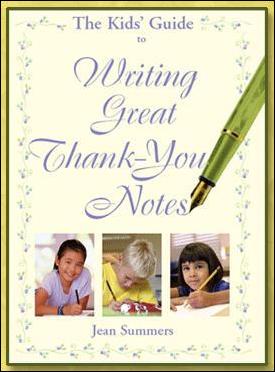 The Power of Positive Thanking
Freeland, WA (PRWEB) December 22, 2006
Sending handwritten holiday thank-you notes is considered an unnecessary, old-fashioned holiday custom by many. Kids hate to do it and their parents hate the hassle of forcing their kids to write them. It is, however, a task that's well worth the effort. Writing thank-you notes helps teach kids a sense of gratitude and build real connections with special people in their lives.
Nineteenth century philosopher William James said the need to be appreciated is the deepest craving of human nature. Today this translates to: Grandma never forgets that she was not properly thanked for the holiday gifts she shopped for, wrapped and waited in a long line at the Post Office to mail. Most likely she's probably watching the mail – hoping for just one thank-you note to arrive.
Oprah Winfey agrees. She said the act of saying thank-you "hones our personality, making us humbler, gentler, more loving people. Saying thank-you automatically reminds us of our place in a greater scheme of things." ("The Power of Positive Thanking," O The Oprah Magazine, November 2000) "Today" show contributor Dr. Gail Saltz said good manners are important in teaching kids to become successful adults.
A good thank-you note is easy and quick to write. Jean Summers, author of The Kids' Guide to Writing Great Thank-You Notes (The Writers' Collective, November 2005) said, "It's a note, not a letter. A good one can be written in just fifty words." Summers' book presents an easy-to-follow five step process: every thank-you note begins with the salutation or greeting, followed by one sentence thanking the gift-giver for the particular gift. Next it includes a couple details about why the gift is special. This is followed by a second thank-you and a warm closing. That's it!
The whole family can make the process easier by doing it together. Mom and Dad can write their thank-you notes while helping the kids write theirs. The kids can take digital photos to slip into the completed notes.
Kids who get lots of gifts can write a few notes every day until their list is complete. For older, computer literate kids, it's okay to send a thank-you by email – if the recipient is an avid email user. Web sites such as Hallmark, American Greetings, and Blue Mountain offer free thank-you e-cards.
About The Kids' Guide to Writing Great Thank-You Notes:
This little 38 page book contains a dozen sample notes for inspiration plus a fill-in-the-blank form for practice writing a first note. It also includes tips for overcoming the five most common excuses, eight ways to describe what makes a gift special, a list of 50 adjectives so every gift isn't described as nice, and an organizer page for getting started and staying on track. It's available on-line at both Amazon.com and BN.com.
Contact information:
Jean Summers
Author, The Kids' Guide to Writing Great Thank-You Notes
http://www.thank-you-guide.com
(360) 730-1030 (Pacific time zone)
# # #