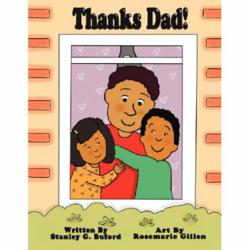 (PRWEB UK) 14 June 2012
ARPG Publishing today introduced Stanley G. Buford and his new book: Thanks Dad! . The quality of the writing, the unique experiences of the author, and the national demand for well-developed children's books on child-rearing and education, merit the serious consideration of traditional publishers. The book is available via Amazon http://www.amazon.com/Thanks-Dad-Stanley-G-Buford/dp/1612860893 for only $9.99 and makes the perfect Father's Day gift.
Thanks Dad! Is a book written for children by a teacher, from a parent's perspective. In the book, Buford showcases the various ways a father can influence a child's growth and development. He also discusses how fathers should be involved in their children's intellectual growth both before and during their school years. He then shows educational support staff members, such as teachers and administrators, via inference through his characters, Tee and Kay, why fathers must be included in decision-making processes in the most non-threatening way: opportunities that say, "Thanks Dad!"
"Thanks Dad!" is not the first children's book for parents authored by Buford. His previous volume, "Not All Teachers Are Parents, But All Parents Are Teachers!" received rave reviews, including a thank you note from President Barack Obama:
"Thank you for your interesting book on parenting."
Stanley G. Buford draws from his twenty years of teaching experience and his past roles in business and organization management, to create a fantastic children's book for both parents and teachers. The book clearly shows how it does, in fact, takes an entire "village" (community) to raise a child. The book has already received enthusiastic reviews and accolades on radio, online and other electronic media.
Buford is the former Program Director for the School Partnerships Program, a school improvement project sponsored by DePaul University in Chicago, Illinois, and was also a frequent guest speaker on METV's "The Homework Show." He was a member of the cast of the recently released film "Of Boys and Men" starring Angela Bassett and Robert Townsend. He is currently a freelance writer for the North Lawndale Community News; a contributing writer for the popular national online publication Mybrotha.com and is a Staff Writer for the renowned publication: Thyblackman.com.
For more details on "Thank Dad!" watch a hilarious book trailer on YouTube, http://www.youtube.com/watch?v=5nVrXls5DjM, or like "Thanks Dad!" on Facebook and follow the author on Twitter @StanleyGBuford.