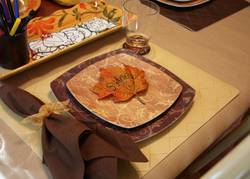 Setting the Thanksgiving kid's table with a few attention-grabbing activities helps keep children content so parents can enjoy their meal.
Houston, TX (PRWEB) November 17, 2010
Ah, the kid's table -- the spot where, if lucky, you might corral busy youngsters for a whopping seven minutes during Thanksgiving dinner. It seems just enough time for them to smear potatoes across their face, drop their plate on the floor, then materialize at the grownups' table just as you're getting seated.
"But that can easily be fixed by making the kid's table a kid-friendly destination during holiday meals," says Krista Fabregas, founder of KidSmartLiving.com. "Setting the kid's table with a few attention-grabbing activities helps keep children put - and content - so parents can enjoy their meal."
Start with Kid-Friendly Tableware
The last thing parents want to do during a festive meal is clean up broken glasses or dishes, so choose kid's dinnerware wisely. Plastic or disposable dinnerware should be acceptable for young children even in formal settings. One fun option is Bambu disposable dinnerware made of, you guessed it, bamboo. It's even compostable. Or consider using durable plastic tableware in place of ceramic or glass. Many plastic drink ware and dinnerware styles offer looks ranging from dressy to festive, all without the worry of breakage.
Capture Their Attention with the Unexpected
Make the kids' table special with fun place cards. Write children's names on mini pumpkins, silk leaves or holiday ornaments, or use something they can continue to decorate after the meal. Small toys or stuffed animals holding little name cards are good attention-grabbing options, too.
Take a Tip from Busy Restaurants
Cover the kid's table with kraft or butcher paper and let kids decorate their table with washable markers, stamps and stickers before and after the meal. Or buy some holiday-themed coloring books and assemble your own restaurant-style coloring placemats complete with small bundles of crayons for each child.
Turn the Kid's Table into the Craft Corner
If children are old enough to use markers and glue sticks, holiday projects can keep them happily occupied at the kid's table while you enjoy your meal. You can find pre-cut ornament kits at any craft store, or just provide construction paper, craft foam or felt so they can make their own creations.
Krista Fabregas founded KidSmartLiving in 1999 to help busy parents create family-friendly homes and lifestyles. Visit KidSmartLiving online at http://www.kidsmartliving.com for kid-friendly home decorating ideas and projects, child safety information and a complete collection of family-friendly kitchen, dining and home products dedicated to worry-free family life.
###