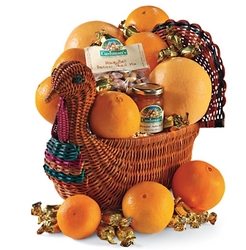 Medford, OR (PRWEB) November 13, 2010
This holiday season, Cushman's, a provider of delicious citrus gifts for 60 years, is offering gourmet Thanksgiving gifts including navel oranges, signature HoneyBells and other specialty goods sure to provide the perfect start to a day of feasting.
Cushman's delicious navel oranges are always appreciated and satisfying. Delivered in a Biscayne box, these wholesome and delicious, seedless navel oranges and Cushman's® crown ruby red grapefruit are a great Thanksgiving gift. This incredible combination of premier juicy citrus treats is great for healthy holiday snacking.
Brighten someone's holiday this year with a Festive Turkey Basket from Cushman's. Our Festive Turkey Basket comes packed with our best navel oranges and crown ruby red grapefruit, sure to make anyone's dream come true. This deluxe Thanksgiving gift also includes our HoneyBell pecan trail mix, HoneyBell marmalade and mint chocolates. Our delicious citrus treats will satisfy early morning fruit cravings and are sure to make this holiday extra special.
Give thanks to friends, family and co-workers with delicious Thanksgiving gifts, such as our Triple Decker Fresh Fruit Gift. This festive Thanksgiving gift is packed with colorful, plump crown ruby red grapefruit, tasty royal tiara tangerines and sugar-sweet oranges. The Triple Decker Fresh Fruit Gift is sure to please even the biggest citrus fan. This quality Thanksgiving gift is guaranteed to put a smile on someone's face this year.
Cushman's wants to remind its customers that Thanksgiving gifts can be scheduled to arrive by Thanksgiving, but please make sure to order before the shipping cut-off dates. The last day to order Thanksgiving gifts using 3-day express is November 19th, the last day for 2-day express is November 22rd, and the last day for overnight delivery is November 23rd.
All orders are backed by a 100% guarantee. If those who receive your Thanksgiving gifts are not delighted, Cushman's will provide either an appropriate replacement or a full refund. Visit http://www.Cushmans.com for more information.
About Cushman's Fruit Company
Founded in 1945 and headquartered in West Palm Beach, Florida, Cushman Fruit Company is a multi-channel marketer of specialty foods, primarily citrus, from Florida's premium groves and the finest farms and orchards across America. The company is best known for its [Cushman HoneyBells® citrus, a rare natural hybrid of Dancy Tangerine and Duncan Grapefruit, and the World's Only Limited Edition Fruit®, as well as its citrus fruit offerings year-round. Today, Cushman's Fruit Company sells its products primarily through its catalog and http://www.honeybell.com, as well as through foodservice and retail channels. Cushman's Fruit Company is a Harry & David company which includes the Wolferman's brand.
(Harry & David and Cushman's Fruit Company are DBAs of Harry and David.)
###