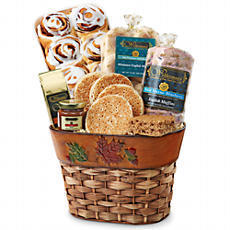 Medford, OR (PRWEB) November 12, 2010
This holiday season, Wolferman's, a proud purveyor of specialty foods for over 100 years, is offering gourmet Thanksgiving gifts including English muffins, breakfast pastries and other specialty goods sure to provide the perfect start to a day of feasting.
Wolferman's gourmet English muffins are always appreciated and always satisfying. Our Create-Your-Own signature English muffin sampler allows for easy customization and makes the perfect Thanksgiving gift. Choose from a variety of sweet and savory selections, including chocolate chip, wild Maine blueberry, San Francisco sourdough, cheddar cheese and more. Send an assortment of Wolferman's English muffins to relatives and friends alike – they're great for entertaining guests on holiday mornings.
Warm up someone's morning with classic breakfast treats and flavors from Wolferman's. Our Breakfast Sweets Sampler comes packed with our best pastries and is sure to be a breakfast dream come true. This deluxe breakfast gift includes our classic cinnamon rolls, nutty sticky buns, povitica bread and two types of kringle. Our sweet treats will satisfy early morning sugar cravings and are sure to make this holiday extra special.
Give thanks to friends, family and co-workers with delicious Thanksgiving gifts, such as our Fall Harvest Gift Basket or Gift Tower. Both of these festive Thanksgiving gifts are packed in colorful, autumn-themed trappings, brimming to the top with a bounty of classic breakfast treats. The Fall Harvest Gift Tower includes four flavors of Wolferman's signature English muffins plus tasty apple butter for to top it all off. Looking to please multiple tastes? Our Fall Harvest Gift Basket lets recipients sample a variety of breakfast treats like classic crumpets, gooey cinnamon rolls and raisin oatmeal squares. Each of these quality Thanksgiving gifts is guaranteed to brighten anyone's holiday.
Wolferman's wants to remind its customers that Thanksgiving gifts can be scheduled to arrive by Thanksgiving but please make sure to order before the shipping cut-off dates. The last day to order Thanksgiving gifts using regular shipping is November 18th, the last day for 3-day express is November 19th, the last day for 2-day express is November 22rd, and the last day for overnight delivery is November 23rd.
All orders are backed by a 100% guarantee. If those who receive your Thanksgiving gifts are not delighted, Wolferman's will provide either an appropriate replacement or a full refund. Visit http://www.wolfermans.com for more information.
Founded in 1888, Wolferman's is a direct marketer and wholesaler of premium specialty foods and gifts, such as English muffins, tea breads, breakfast pastries, jams and other specialty products. The Wolferman's® catalog also includes a wide variety of gift baskets, gourmet breakfast gifts, gourmet pastries and honey and fruit spreads for every occasion. The Wolferman's® specialty English muffins include the 1910 original recipe, multi-grain & honey, chocolate chip, pumpkin spice and more. The Company started making its signature Wolferman's® English muffins in 1910 and, today, sells its products primarily through its catalog and http://www.wolfermans.com, as well as through foodservice and retail channels. Wolferman's is a Wolferman's company which includes the Cushman's brand.
(Wolferman's and Wolferman's are DBAs of Harry and David.)
###