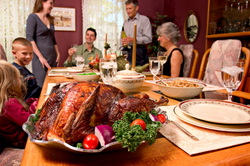 Holiday hosts better prepare themselves for more company around the holiday table and a greater number of guests who are likely to hunker down for an extended stay.
Houston, TX (PRWEB) October 14, 2010
When guests arrive, having a Daybed with Trundle or extra Metal Bed can be a life saver. If friends and relatives come for a visit, hosts and hostesses might have a few more mouths to feed and heads to cradle to sleep this upcoming year. In anticipation of all that extra company, they might want to take a closer look at where their overnight visitors are going to sit and stack some ZZZs. For those who find themselves ill-equipped in the hospitality department, Home and Furniture has just added several dining sets, daybeds and metal beds from Hillsdale Furniture to its online inventory of quality discount furniture.
According to the experts at Bing Travel, "Travel air fares could drop this year." This discounting trend continues from last year, "when airfares and hotel rates remained low as a way to reinvigorate consumer travel during a tough economy." In order to score the best deals, however, travelers will need to be flexible with their travel dates, with the days right before and after the actual holiday being the priciest.
All of this adds up to one conclusion: A good host prepares themselves for more company around the table and a greater number of guests who are likely to hunker down for an extended stay. To accommodate these extra bodies, Home and Bedroom Furniture has just enhanced its inventory of quality discount furniture with an extensive assortment of Hillsdale metal beds, daybeds and dining sets.
The latest Hillsdale Dining Sets from the new Grand Bay and Valhalla collections will maximize seating and eating arrangements. Hosts who discover that their dinner tables still don't have enough room around them, even with the extender leaves inserted, need not worry. Home and Bedroom Furniture is also now carrying a wide assortment of Ambassador and Park View bars.
And what about all those extra overnight guests clamoring for sleeping space? Home and Bedroom has a solution to that quandary as well. The company carries a large array of daybeds as well as a generous new lineup of Hillsdale sleeping options from the Cole, Dutton, Harbortown, Mandalay and Sorrento Bed collections.
To learn more about how to affordably accommodate overnight guests, contact Home-and-Bedroom.com's Jennifer Machala at 281-758-0242. To see the company's full line of Discount Bedroom Sets, Dining Sets, Metal Beds and Daybeds, including the newest offerings from Hillsdale Furniture, visit Home and Bedroom Furniture online at http://www.home-and-bedroom.com/, and use savings code "guests " to enjoy an extra 10 percent off Until February 28th.
###