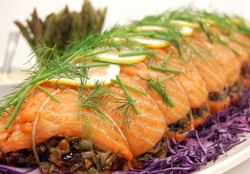 long. Starting with one end closest to you, lay the string 2 ½
New York, NY (Vocus) October 28, 2010
With Thanksgiving around the corner, this Norwegian Salmon recipe, with flavors reminiscent of fall, is a unique and healthy substitution for a traditional Thanksgiving turkey, or a seafood dish addition to a Thanksgiving spread.
RECIPE: Norwegian Salmon Stuffed with Wild Rice, Cranberries and Pecans
CREDIT: Norwegian Salmon, Salmoninseconds.com
About Norwegian Salmon – Norway has a thousand-year tradition with fish and fishing and is the pioneering nation behind the development of modern aquaculture. Ocean-farmed along 34,000 miles of coastline in cold, clear ocean waters, Norwegian Salmon possesses a naturally full flavor and all of the health benefits that Vitamins A and D and omega-3 fatty acids provide.
Additional Norwegian Salmon recipes, instructional videos, Nicole's Salmon Blog and more can be found at Salmoninseconds.com. Receive Norwegian Salmon recipes via Twitter at twitter.com/salmoninseconds.
PREP TIME 45 minutes
TOTAL TIME 45 minutes
SERVINGS 10
Ingredients
2 each Norwegian salmon fillets, skin removed, 3 lbs. each
2/3 cup wild rice blend, rinsed well
2 cups water
3 cups brioche or challah bread, 1" cubes
¾ cup bacon, ½" dice
2 Tsp. garlic, minced
¾ cup leeks, ½" dice
½ cup celery, ½" dice
½ cup fennel, ½" dice
1 ½ cup shiitake mushrooms, sliced
8 oz. butter, melted
2 tbsp. thyme, fresh
2 tsp. poultry seasoning
½ cup chicken broth
½ cup sherry
½ cup cranberries, dried
¾ cup pecans chopped
Steps
1 Combine wild rice, water and ¾ tsp salt in a medium sauce pot . Cover and bring to a boil. Reduce to a simmer and cook for 50 minutes, until water has been absorbed into rice. Remove from heat and reserve.
2 Combine dried cranberries and sherry wine in small sauce pot and bring to a boil. Remove from heat and reserve.
3 Toast brioche bread in a 300° degree oven until dry. Remove from oven and reserve.
4 In a large skillet over medium high heat, sauté bacon until crispy. Remove bacon from pan and drain on a paper towel. Reserve 1 Tbsp of bacon fat in skillet.
5 In the same skillet over medium heat sauté garlic, leeks, celery and mushrooms and fennel until tender, 4-5 minutes. Season with salt and pepper. Remove from heat and reserve.
6 Combine wild rice, dried brioche bread, bacon, sautéed vegetables and pecans in a large mixing bowl. Pour melted butter into bowl and toss to coat ingredients evenly. Add fresh thyme and poultry seasoning.
7 Add dried cherries with sherry to mixing bowl. Add chicken broth and mix until incorporated. Season with salt and pepper.
8 Cut 8 pieces of butcher's twine about 18" long. Starting with one end closest to you, lay the string 2 ½" apart and parallel to each other on a large cutting board. Lay one filet of salmon skin side down on top of the string. The string should run from the belly to the top of the salmon. Season the fillet with salt and pepper.
9 Spoon the stuffing on top of the fillet and coat evenly from head to tail. Next, place the second side of salmon on top of the stuffing with the tail end over the head end of the first fillet and the skin side down. Season the fillet with salt an pepper.
10 Bring the ends of each string together and tie together. Trim any excess string.
11 Place stuffed salmon "roast" in a large casserole dish. Cover with aluminum foil and bake at 350° for approximately 45 minutes.
# # #