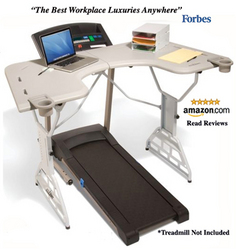 The average American walks less than 5,000 steps per day burning a mere 250 total calories in the process.
Phoenix, AZ (Vocus) November 24, 2010
Dieticians estimate that the average American will consume more than 4,000 calories during Thanksgiving dinner, more than the average amount of calories expended by participants in this year's New York City Marathon. Rather than wallow in guilt this year TrekDesk treadmill desks offer an alternative means of walking off these extra calories in a matter of days.
The average American walks less than 5,000 steps per day burning a mere 250 total calories in the process. At that rate it takes 16 days to burn off a single Thanksgiving feast, assuming an individual increased their activity to 10,000 steps and consumed only a balanced amount of calories thereafter. Walking an additional 5,000 steps (2.5 miles) is a challenge for most Americans stressed by lack of time and motivation. Movement incorporated into normally sedentary activities such as desk jobs solves the problem. TrekDesk offers this capability.
"It is easy to see why the holidays pack on the pounds and it becomes such a challenge to lose the added weight. Thanksgiving dinner will add an extra pound to the average American," stated Steve Bordley, CEO of TrekDesk Treadmill Desks. "TrekDesk offers the opportunity to walk off the added weight in less than a week with a long list of other health benefits as well."
TrekDesk is advocating for a 'movement revolution' within the United States that educates individuals to the necessity of walking a minimum of 10,000 steps every day. Designed to fit any existing treadmill, TrekDesk is an affordable, full sized workstation that allows individuals the opportunity to gain the necessary amount of exercise daily to lose weight, maintain health, prevent disease, strengthen muscles, boost mood and productivity, without requiring additional time during the day or extra motivation.
"We did not have an obesity epidemic during the 1960's and Americans consumed roughly the same amount of calories then as they do today, however we burn 600-700 calories less due to our sedentary lifestyles," concluded Bordley.
TrekDesk is currently available for sale online at TrekDesk.com for $479.00 including free shipping.
Join the TrekDesk "Movement Revolution" to learn more on TrekDesk's Facebook page at http://www.facebook.com/pages/TrekDesk-Treadmill-Desk/80743563805.
###