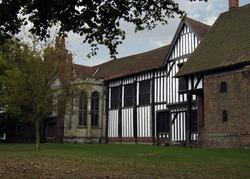 The English Origins calendar is great for those interested in their heritage - and in the true origins of Thanksgiving. A gift quite different.... informative, useful and beautiful.
(PRWEB) November 5, 2010
Very different from the normal gifts you encounter, here you will find poignant products that provide insight into the origins of a remarkable group of individuals, from whom we can learn a great deal.
Recipients of these gifts will receive a glimpse into the lives of the Pilgrims who established this landmark occasion, and all they left behind in search of freedom – for themselves and for their children – a freedom still largely maintained across the US today.
The beautiful photographic gift range illustrates the places where the Pilgrims were born, baptized or where they met together, and therefore feature English buildings from the 16th century or earlier.
One gift which is suitable for almost anyone is the 2011 Calendar by English Origins. Each month of the calendar illustrates - in time line - the formation of the group to become the Pilgrims, including their English leaders who helped arrange the Mayflower voyage, and the issues they were facing in England at the time, which led to their final escape.
The expanding gift range available at http://www.thanksgivinggifts.co also includes framed and unframed pictures, to allow the recipient to display the stunning buildings and heritage that the Pilgrims left behind in order to practice their beliefs.
Gifts can be selected according to a particular Pilgrim Father, or alternatively choices are available which represent the Pilgrims as a group.
These quality gifts provide wonderful conversation pieces, and combine practical function with stunning photography. Designed in England (printed and distributed from within the US), having these beautiful and useful products around the home will provide a poignant reminder of all we can be thankful for throughout the year.
Make Thanksgiving 2010 and the year ahead a poignant and thankful one.
###