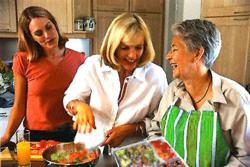 One box from the fridge to the party, and it's a simple way to take home leftovers
Minneapolis, MN (PRWEB) November 08, 2012
Prep and Serve is a new product creating a little buzz around the holidays. Why? It is a new organizing system to get many items from the fridge, to the party and onto the table in one swift move. Soon, have the ability to take food to Thanksgiving Dinner, a party or office gathering, and effortlessly and elegantly serve there too. Recipes with multiple ingredients? This system makes it easy to travel with those separately, and whip it together at the last minute. Assemble on site while leaving less mess! And, it's a simple way to take home leftovers when leaving. This is a perfect system for an organizer. See the video here http://PrepandServe.com/launch. There are many holiday party planning tips, recipes and links on the Prep and Serve blog site too.
Prep and Serve is in the pre-sell phase, so though not yet available, they only need 1500 buyers to make it happen. Think of how easy this could be at home, for a party, or while traveling in the car. All those places where you need to take multiple items, but it was always a hassle. Now carry many items at once, with ONE LID to seal each separately!
This product is well suited for gourmet cooks who want an easy and convenient way to prep for a dinner party, not forget an ingredient, and effortlessly and elegantly cook or host a buffet. There is many a personal chef that has to take food off site who will appreciate the convenience and professional appearance. And think how easy it would be to bring food for a weekend trip or tailgating party!
Are you dieting over the holidays? There are many great menu suggestions, recipes and links at the Prep & Serve website to help with your diet. Who hasn't had to resist the party food at this time of year? Running around shopping, you come home so hungry, grabbing what is available, and not always the best choice. Dieters will find this ultra convenient as long as they fill ahead with those items that are best for their diet - a great way to have a salad ready in minutes. The inner containers are measurement marked, which is helpful with weight loss plans. And having your food looking good and easily available makes a much better presentation, so it's more appetizing to eat veggies! Because units seal separately, you can keep unlike items all in one container – whether nuts, carrots, blue cheese or salsa, all are ready and available as meal additions.
Prep & Serve has been designed by a woman, and caters to what women want. It makes life easier for moms trying their best to get dinner on the table, those with picky eaters, and parents juggling kids to events. The Prep & Serve system will make anyone look like an accomplished cook! Now arrive in style, as you plan and prep a day ahead.
Please watch this short video at http://PrepandServe.com/launch/ to learn all about how Prep and Serve can make life easier when traveling with food!