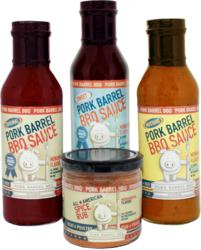 Thanksgiving is a special time when Americans gather to share a meal and give thanks with our families and friends…we wanted to show our appreciation by sharing some of our favorite Thanksgiving recipes." ~ Heath Hall, Pork Barrel BBQ
Washington, DC (PRWEB) November 14, 2011
Pork Barrel BBQ, the nation's fastest-growing barbecue sauce company, is opening up the recipe books of co-founders Heath Hall and Brett Thompson to share their favorite Thanksgiving Day dishes. The recipes, compiled as Pork Barrel BBQ's ideal "Thanksgiving Day Feast" menu, include traditional favorites and a new twist on the classics using Pork Barrel BBQ sauces and dry rub.
The "Thanksgiving Day Feast" recipes are available to everyone as a free download on their website.
Recipes include Pork Barrel BBQ's famous smoked turkey, smoked gouda mashed potatoes, cornbread and Andouille dressing, cranberry-pomegranate chutney, chipotle chile scalloped sweet potatoes, and pumpkin pie.
"Thanksgiving is a special time when Americans gather to share a meal and give thanks with our families and friends," said Hall, President and co-founder of Pork Barrel BBQ. "As we enter the holiday season we find ourselves overwhelmed by and thankful for the continued support and encouragement from the growing numbers of fans of Pork Barrel BBQ and we wanted to show our appreciation by sharing some of our favorite Thanksgiving recipes."
Pork Barrel BBQ's award-winning sauces and spice rub are available at many grocery stores across the country including Harris Teeter, Schnucks, Whole Foods, Safeway, Central Market, and Costco. To find a store in your area that carries Pork Barrel BBQ products, check out the store locator at http://www.porkbarrelbbq.com/store-locations
For more information, visit the Pork Barrel BBQ website http://www.porkbarrelbbq.com and read about their latest updates and adventures on Facebook, Twitter (@porkbarrelbbq) and the company's blog.
About Pork Barrel BBQ
Pork Barrel BBQ was founded in December 2008 during the peak of the economic crisis to prove that a company not owned or operated by the federal government could succeed, and that if you had a good idea, it was still possible to grab a piece of the American Dream. Pork Barrel BBQ founders, Heath Hall and Brett Thompson, ran the company out of the basement of their houses, selling their award winning BBQ products one bottle at a time. In less than one year, their Pork Barrel BBQ Sauces and Spice Rub were carried in over 1,000 stores in 40 states. Throughout their journey, they have stayed true to their mission – to unite the nation through the great tradition of BBQ, and bring bipartisan flavor to your next meal. The Pork Barrel BBQ Competition BBQ Team entered its first contest, The Safeway National Capital Barbecue Battle, in June 2009, and walked away with two trophies – Second Place in the "Nations Best BBQ Sauce Contest" and Fourth Place for their pulled pork in the Memphis In May portion of the contest. Since then, the team has won multiple awards, including the 2011 Perdue National Chicken Championship, the Safeway National Capital Barbecue Battle in 2011, the "Chinet People's Choice" award for best BBQ sauce in 2010 and other notable Memphis in May and Kansas City Barbecue Society BBQ competition accolades as well as having their Pork Barrel BBQ Original BBQ Sauce named Best Sauce in America and one of "The 125 Best Foods for Men" by Men's Health Magazine in November 2010. For more information, visit http://www.PorkBarrelBBQ.com or follow Pork Barrel BBQ on Facebook and Twitter (@porkbarrelbbq).
###