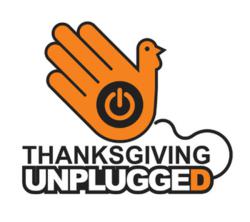 "I grew tired of sitting through meals where I'd turn to speak at someone only to realize they were already engaged in a 'conversation'…with their smartphone," says Farley.
(PRWEB) November 14, 2012
As the Northeast rebuilds from Hurricane Sandy and Americans are reminded of the importance of focusing on family and friends, two of the nation's leading etiquette experts have launched a broad-based initiative called "Thanksgiving Unplugged," promoting balance in the way we use technology.
On the one hand, cell phones and social media serve as vital lifelines in times of crisis. On the flip side, when used continually and without discretion, technology can actually disconnect us from the people and things that really matter. To kickstart this bold new campaign, "Thanksgiving Unplugged" is encouraging individuals young and old to download and sign The Pledge—a promise to unplug and stow one's electronic devices before sitting down to Thanksgiving dinner this year.
Co-founders and etiquette experts Diane Gottsman and Thomas P. Farley are challenging Americans to take the "Thanksgiving Unplugged" Pledge by visiting ThanksgivingUnplugged.com and passing the word along to family and friends via the campaign's Facebook page and Twitter handle (@GoUnplugged, #ThanksgivingUnplugged).
Educational institutions across the U.S. have already pledged to "Go Unplugged" this Thanksgiving, from halls of higher learning such as Rice University, in Houston, all the way to grammar schools in Iowa, with children participating from coast to coast.
Those who pledge to "disconnect to reconnect" receive a free illustrated guide to setting the perfect holiday table by signing up for the "Thanksgiving Unplugged" newsletter. Place-setting guides include versions for both adult and kids. Newsletter subscribers also receive conversation starters and activity suggestions for keeping the family engaged and entertained in the absence of electronics.
After Thanksgiving, via Facebook and Twitter, Americans are being invited to share photos and stories of how they celebrated the holiday "unplugged" and how they plan to carry some of the lessons learned from the unplugging experience into their day-to-day lives. Farley and Gottsman will conduct this program annually, expandable to other holidays throughout the year.
"I grew tired of sitting through meals where I'd turn to speak at someone only to realize they were already engaged in a 'conversation'…with their smartphone," says Farley. "Thanksgiving seemed the ideal time for all of us to take a step back and reclaim a piece of our own humanity."
"So much time and energy goes into the preparation of a Thanksgiving dinner," says Gottsman. "And yet, we miss a golden opportunity for quality catch-up with our loved ones when we spend more time focused on our devices than on what is on our plates—not to mention taking time to appreciate the ones who actually cooked the meal."
To schedule an interview with the founders of "Thanksgiving Unplugged," contact Laura Otero (laura(at)protocolschooloftexas.com) or Logan Riley (lriley(at)whatmannersmost.com).
About the Co-Creators of "Thanksgiving Unplugged"
Thomas P. Farley is a manners expert who's been interviewed on matters of etiquette by the Today show, the CBS Early Show, the New York Times, the Los Angeles Times, People Style Watch, USA Today, CNN, ABC and Nick at Nite's TV Land, among many others. His Town & Country book, "Modern Manners: The Thinking Person's Guide to Social Graces," went into multiple printings. He is also a featured contributor to "The Experts Guide to Doing Things Faster" (Clarkson Potter; 2008).
Known as "Mister Manners," Farley is passionate about promoting the message of common consideration. He has been a guest lecturer at New York University's School of Continuing and Professional Studies and does manners classes for companies and schoolchildren. "I think it's important for both adults and kids to know that being mannerly doesn't entail memorizing long sets of rules," he says. "It often means simply thinking twice before you act."
Throughout 2011, Farley served as a guest-host for the daily talk show Living Today, on the Martha Stewart Living Radio network and created that channel's "Manners Mondays" segment. Among his latest initiatives are a manners column for the New York Post and a program called "Manners & Manicotti," which he hosted in New York's Little Italy, alongside TV's "Aunt Chippy," of Jimmy Kimmel Live! A graduate of Fordham University, Farley is presently at work on his second book, which will address the tricky matter of tech etiquette—from smartphone use to Facebook quandaries.
Follow Thomas @MisterManners and via his web site, What Manners Most.
––––––––––––––––––––––––––––––––––
Diane Gottsman travels nationally teaching corporations and universities in the finer points of etiquette. Diane is the owner of The Protocol School of Texas and has written a book titled "Pearls of Polish: Graceful Solutions to Everyday Etiquette Dilemmas," which is now in its second printing. Diane also recently launched her own line of stationery, "Sincerely Yours."
Diane is the resident etiquette expert on SA Living, an NBC television affiliate. She is routinely quoted in national media outlets such as Real Simple, HGTV Magazine, Martha Stewart Living, the New York Times, CNN, Bloomberg Business Week, U.S. News & World Report, CBS Money Watch, Kiplinger's and Forbes. The latter publication named her blog one of the "Top 100 Websites for Women."
Diane holds a Master's Degree in Sociology with a concentration in adult behavior. She enjoys teaching one of her favorite sessions, "Dining Etiquette," on university campuses including Rice, Southwestern, The University of Texas, Texas A&M, Georgetown, University of St. Thomas and Concordia. Diane has taught everyone from kindergarten students to rocket scientists.
Being quoted in WWE Magazine (World Wrestling Entertainment) has been one of her most interesting experiences. Diane had the opportunity to offer dining tips to wrestlers on how to eat Thanksgiving dinner! For a split second she recalls, "my teenage son thought I was pretty cool!"
Follow Diane @DianeGottsman and via her web site, http://www.protocolschooloftexas.com/.
–# # #–