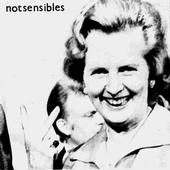 Whatever you think of her this song will make you smile!
(PRWEB UK) 12 April 2013
In the wake of Margaret Thatcher's passing the battle for the number tribute song has caught the imagination of the nation.
Whilst many celebrate the demise of Baroness Thatcher with equal amounts of venom and adoration the songs topping the charts currently reflect the delight of the anti Thatcher sentiments reminding us of the industries and communities who suffered the brunt of her harsh economic policies.
The fun loving Burnley band Notsensibles cheeky and irreverent indie classic "I'm in Love with Margaret Thatcher" bridges the gap between both sides with its intrinsic ambiguity striking a common chord. The charming naivety of the lyrics and its ironic song title have given rise to many a debate of whether the song was indeed a tribute or just plain "taking the Michael".
The classic cover, showing Margaret Thatcher giving a firm two fingered salute whilst wearing a broad smile, won many a poll for the best single cover ever. Was she caught in the act or did the old airbrush play a part?
However you take it, one thing is for sure, this catchy song championed by the legendary Radio 1 DJ John Peel brings a smile to all that hear it, whatever their age or political persuasion.
Originally released in 1979 the song has long being heralded as an underground classic carving its creators Notsensibles their own niche in the annals of punk/independent music history.
In 2012 the song was featured in the Oscar winning film "The Iron Lady" starring Meryl Streep, once again raising the age old question, "Were they really in love with her?"
Whatever the answer we will probably never know but why not give it listen and decide for yourself.
Spread the word!
The song is available for download on iTunes
http://bit.ly/12NAVZc
Limited 7" vinyl format on the website of the band itself
http://www.notsensibles.com or http://bit.ly/16OLqha
Facebook Campaign - Make 'I'm in love with Margaret Thatcher' the Number One tribute to Maggie
https://www.facebook.com/NumberOneForMaggie