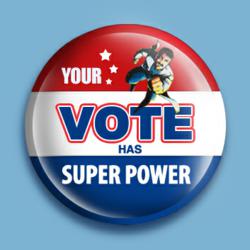 The MLM Superhero blog provides valuable information to teach Network Marketers the importance of personal branding and step by step strategies on how to get their phones ringing with incoming calls
Burnaby, BC (PRWEB) November 21, 2011
MLM Bloggers are coming from all four corners of the globe to enter the MLM industry's leading blogger showcase in this year's Top 50 MLM Blogs Contest at ThatMLMBeat.com. The event is proudly sponsored by MyLeadSystem PRO - the world's leading Attraction Marketing and Online Lead Generation System.
Rising up the charts as a top 10 contender - and in search of "the people's vote" - is the MLM Superhero - Darren Little, looking to help the average Network Marketer produce above average results in Network Marketing.
Able to recruit new reps faster than a speeding bullet. Able to leap large countries in a single conference call. Able to help you build your brand stronger than a locomotive...It's a bird! It's a plane! No....it's the MLM Superhero! As an avid Network Marketer and personal development coach, Little says that he got tired of seeing so many people failing with the MLM business model.
"How could a business model with such exponential income potential produce a failure rate of more than 97%?, said Little in a recent interview. So he set out on a mission to help change that. Little co-wrote the book MLM Affiliate Magic with 30 year MLM veteran Dennis Compo and the two serial entrepreneurs say that the best is yet to come.
"The book teaches a unique marketing strategy called Boomerang Sponsoring," says Little. "If you've ever thrown a boomerang before, you stand in one spot - throw it out in the air and it loops around and you just reach out and catch it. Boomerang Sponsoring works the same way. Using the internet, you put out quality content and it attracts people to come back to your personal brand. They opt-in to get something of value, which gives you the opportunity to build rapport with them and help them to solve their problem. In most cases, they don't know how to market. MLM Affiliate Magic and MyLeadSystem PRO help them to change that."
So what's up with the Top 50 MLM Blogs Contest anyway? That MLM Beat Top 50 MLM Blogs Contest acknowledges the countless hours that leaders from around the world spend to provide valuable educational content to help the entire Network Marketing industry grow and flourish. The MLM Superhero blog provides valuable information to teach Network Marketers the importance of personal branding and step by step strategies on how to get their phones ringing with incoming calls. "The days of peddling products to your friends and family are long gone" says Little, "with the power of the internet people now have access to millions of business opportunity seekers and people already sold on the MLM business model".
Readers that vote for the MLM Superhero blog right now, will be giving "the power to the people" by helping to get this message to the masses internationally. Plus, as soon as they vote they will be immediately entered for a chance to win a one on one personal coaching session with Darren Little - MLM Superhero - valued at $297. What's even better is that for every person they get to vote - they get one additional entry. Ten referral votes = ten extra entries, so if their friend wins, they win too.
Get step by step directions on how to vote on the the Top 50 MLM Blogs Contest.
Get a free copy of MLM Affiliate Magic, valued at $197. Free copies will only be available for a limited time on a first come first served basis.
About Darren Little: Darren Little is the President, CEO of MLM Superhero. He is the co-author of MLM Affiliate Magic and a contributing author to Chicken Soup for the Network Marketers' Soul with Jack Canfield and Mark Victor Hansen. He has shared the stage with Anthony Robbins, T. Harv Eker, Dr. Lee Pulos and Dr. Dov Baron just to name a few. Darren teaches Network Marketers the importance of personal branding and how to generate an endless supply of leads for their business.
###