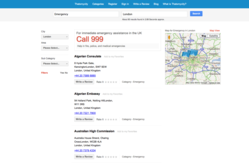 The exclusive Thatsmycity Emergency Numbers Section has made it even easier for its users to quickly reach the help they may need at the time of common emergencies such as fire, police and medical emergencies.
Dubai, Auckland, London (PRWEB) July 20, 2012
Early this summer, Thatsmycity proudly announced the integration of a new category on their site, Thatsmycity Emergency Numbers.
Being a comprehensive online guide, Thatsmycity helps its users find not just vibrant and social places to eat, drink and relax around their neighborhood and the world, but also endeavors to provide them with exclusive and firsthand information about the Emergency Numbers. This dedicated category is intended to help people stay informed about where to turn at the crucial time of common emergencies such as fire, police and medical emergencies. The section displays not just an extensive list of emergency numbers, addresses and reviews but also a location finder map, to help them reach for the aide faster.
Finding Emergency Numbers on the site is fast and easy. All that the users need to do in the critical moment is, to select 'Emergency' from the Thatsmycity categories at the top of the homepage. In a fraction of a second, an extensive list of emergency numbers, names, and addresses with map guidance will be displayed and the users can select any of those that is most relevant to their situation. Users can also type 'emergency' into the search bar and quickly reach the required page.
By displaying Emergency Numbers on the site, Thatsmycity has made it easier for both the locals and the tourists, to combat any critical situation without wasting a single moment. The tourists, in case of meeting any emergency in a strange land can benefit from the helpful Thatsmycity Emergency Numbers Section, easily find the address, contact numbers and be guided to the destination with the help of Thatsmycity digital map.
Only having started its journey recently, Thatsmycity has diversified into an ultimate local online guide, which showcases plenty of innovative and helpful features for tourists and locals alike. The site is fast and easy to use, just as the users would expect from a great site, so finding not just the Emergency Numbers but; restaurants, pubs and bars, hotels, fast food and takeaways, things-to-do, reviews, maps, ratings and personal experiences of all the places and things people love in their area and the world, is easy and convenient.