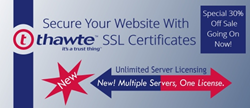 Unlimited Server Licensing Allows One SSL Certificate to be installed on as many servers as required
Chatsworth, California (PRWEB) March 25, 2015
SSL Certificate Provider Certs 4 Less, a Division of 4 Less Communications, announces today the availability of Unlimited SSL Licensing under the Thawte Brand of SSL Certificates. One Thawte SSL Certificate can now secure an unlimited number of servers. This means that customers can save money, as well as secure as many servers as they want with the highly respected Thawte Certificate Authority. This unlimited server licensing policy applies to both existing and new customers. Certs 4 Less encourages all to secure as many devices as possible utilizing the Thawte brand of SSL Certificates. To help facilitate this, Certs 4 Less is offering 30% of all Thawte SSL Certificates through the month of April 2015.
30% Off Thawte SSL Certificate Promotion
Certs 4 Less, in addition to its everyday competitive prices, will be offering 30% off to new and existing customers that order Thawte SSL Certificates between now and April 30, 2015. Certs 4 Less has taken a no nonsense approach to this promotion. There is no limit to the amount of certificates you can buy. Customers must simply use the promotion code: ThawteUnlimited to qualify. All qualified purchases during the period of March 24, 2015 – April 30, 2015 will receive the 30% discount.
Link For More Information: https://www.Certs4Less.com/thawteproducts.html
About 4 Less Communications, Inc.
In business since 1998, 4 Less Communications, Inc. offers Website and Ecommerce Hosting, Online Backup, SSL Certificates, Code Signing, and Dial-up Internet Access through their related companies. 4 Less Communications, Inc. was founded on the concept of offering the best Internet technologies with less stress, less confusion and for less money. 4 Less Communications, Inc. maintains its own data center and is proudly operated entirely in the United States.
Contact Information
Dan Holtzman
888.818.0444
Certs 4 Less
media(at)4lesscommunications(dot)com