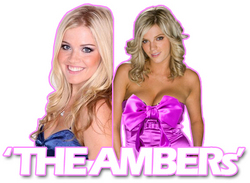 Hollywood, CA (PRWEB) April 23, 2009
Rob Redstone, the creator of the next-generation style talk show 'The Rob Redstone Show' has prepared a wonderfully entertaining conversational celebrity interview talk show with both Ambers' from the hit Reality Show THE BAD GIRLS CLUB™ and it will be laced with vivid imagery for the senses and fascinating interactive conversation. Now with the birth of interactive Internet TV, the viewers can now participate on the show with a live chat room parallel to the movie window where they can type in questions and comment about the show to the other viewers live as the show is airing, even have the host or guest star can respond to the viewers individually.
"I'm extremely excited to interview both Amber M. and Amber B. on Internet TV says Rob Redstone, they were requested by my audience by popular demand, that's one of the benefits of Interactive Internet TV". Also if the viewer misses the show, they just have to go to our internet TV channel and click on the missed show and watch it as if it was on their DVR at home, it's always there waiting to be watched! Rob Redstone chose internet TV as his launch pad because the line between the computer and the television has more than blurred, it has become one. He also likes that if the show runs over, he can simply keep a good thing going with no time restrictions and that's good for him because he sure loves to keep great conversation going.
The Rob Redstone Show with guest stars Amber M. and Amber B. from the hit Reality Show THE BAD GIRLS CLUB™ can be viewed Monday at 7pm PST/10pm EST April 27th and if missed, can be viewed at anytime simply by viewing the Rob Redstone Channel on Ustream.TV. Rob Redstone knows the audience is waiting on the edge of their seat for this show, and the show has been one exciting personal project for him to bring to the world.
###