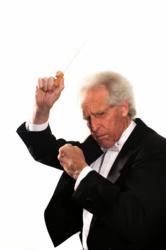 The conductor is the one part of the orchestra that doesn't make a sound. My job is to inspire others to be powerful.
Dallas, TX (PRWEB) May 11, 2013
Carlton's Training recently released a motivational training video with an interesting host. The Art of Possibility is a leadership training video from Carlton's Training featuring Ben Zander. The idea of this training video is to focus on the positive elements of any position at any company or in life. Zander's enthusiasm and engagement with his audience are infectious.
Before The Art of Possibility training video, Ben Zander has been featured on 60 Minutes and has even graced pages of Time Magazine. He has been conducting music for three decades. But he has now through his energy and positive outlook has become a force in the global business world. Business leaders flock to his speeches and his training videos featuring his philosophies continue to sell all over the world in every language imaginable.
So what makes Ben Zander's message so exceptional? Why does a consulting firm like Carlton's Training take an interest in him? What does a conductor know about the business world that a consultant doesn't? People. "The conductor is the one part of the orchestra that doesn't make a sound. My job is to inspire others to be powerful," says Zander.
The Art of Possibility was so powerful and successful that there was a follow-up training video titled Attitude: Radiating possibility. Art of Possibility at Carlton's Training was an exceptional program about leading change and inspiring greatness. Now this new program Zander demonstrates how a person's attitude can change their whole perspective and their life.
Training videos like The Art of Possibility are generally frowned upon in the corporate training world. Businesses tackle leadership training with the hard message of professionalism, productivity and drive. This Carlton's Training program focuses on being positive, sharing ideas and personal growth. Not exactly the bottom-line, hard-core business ideology you would expect and IBM executive to model.
Carlton's Training has stood behind the fun spirited Zander in The Art of Possibility and for his leadership ideas and features other high profile people in their training videos. John Cleese, Morris Massey, Lou Holtz, Dewitt Jones, Joel Barker, tom Peters and Ken Blanchard are among the other highly regarded professionals celebrated in their programs. To view The Art of Possibility or other training videos online, click Carlton's Training and watch other inspiring stories and programs.