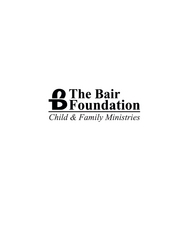 New Wilmington, PA (Vocus) November 13, 2010
November is National Adoption Month; a time of year set aside to raise awareness about the thousands of children in foster care who are waiting for a permanent family. It's also a day when we honor and celebrate foster families who have adopted or who are in the process of adopting a foster child. This year on November 20th, families, adoption advocates, judges and volunteers will come together to celebrate adoption nationally. Hundreds of adoptions will be finalized simultaneously across America. Since its inception in 2000, more than 30,000 foster children had their adoptions finalized on the National Adoption Day.
So far this year, The Bair Foundation foster families have provided "forever homes" to almost 100 foster children. On November's Adoption Day, 34 more will be legally adopted by their foster parents. Case workers, guardians, therapists, parents, and grandparents will stand together as they witness, often times with teary eyes, the adoption of several foster children. Nothing can compare to the excitement and happiness experienced as a foster child becomes a permanent member of a family. It's truly a day to celebrate.
At the Bair Foundation, we believe every child deserves a permanent home and we actively encourage our families to consider adoption when possible; by providing permanency, a child is not only blessed with a loving and nurturing family, they are given the opportunity to succeed in their adult lives because of the support system a family provides. There is simply no greater act of love than when a foster parent opens their heart and their home to adopt a "waiting" foster child.
ABOUT THE BAIR FOUNDATION
The Bair Foundation is a non-profit agency that has successfully cared for and treated children, teens and families for over 40 years. Nearly 5,000 children (who typically have been struggling with behavioral and emotional difficulties, family problems, physical and emotional abuse, and other problems) are serviced each year through The Bair Foundation's community-based programs. As a nationally recognized leader in the field of children & family services, The Bair Foundation has 37 offices operating in 8 states. Through a myriad of programs and services they are able to address and meet the unique needs of children and families in crisis; services include: Therapeutic Foster Care, Traditional Foster Care, Adoption Services, Medically-Needy Foster Care, Independent Living Services, Parent Empowerment Program, In-Home Services, Assessment Home, & Outpatient Services. Bair.org
###