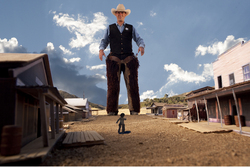 A webisode about a full-size sheriff in a miniature western town.
Los Angeles, CA (PRWEB) February 16, 2010
The world of the webisode (short TV episodes on the web) has exploded in recent years, as filmmakers, actors and anyone with a story to tell has begun to produce their own short TV shows (typically 3-5 minutes in length), free from the restraints of the studios or networks in telling their story. Stories have ranged from the wide appeal of "Prom Queen," (the lives and travails of high school students and prom night) to the more targeted "Gold" (about on-line gamers).
But never has there been a show quite like "The Ballad of Mary and Ernie."
In it, we follow the adventures of Marshall Ernie, a man big for his age (say, about fifty feet high in relation to everyone else). All of his friends are about eight inches tall, including Nan, the woman he's going to marry. Everything is going along fine in this crazy universe, until he meets Mary, a full-sized woman…
There are all the classic western elements – saloons, bar room brawls, villains, shootouts, horses, cattle stampedes, you name it. The rich vein of iconic western images neatly trampled here by hundreds of tiny feet. It's "Lost" meets "Gunsmoke," meets "Airplane!" But to these characters, it's all taken completely seriously. Marshall Ernie is torn between his love for Nan, and his interest in Mary. Mary would rather shoot her way out of a situation that resolve it, and Nan may prove to the one with the most evil of intentions…
"The Ballad of Mary and Ernie" was written, directed and produced by Robert Stadd. Director of SyFy's "Alien Siege," he has worked as a visual effects supervisor for several years, creating seamless images for Michael Mann's films: "Public Enemies," "Miami Vice," "Collateral," and "Ali." In addition, he has produced or supervised the visual effects for "Redline," "Galaxy Quest," "Mighty Joe Young," "Nutty Professor" (I & II), "The Mask," "The Crow," "Crimson Tide," "My Fellow Americans," "Liar Liar," "Defending Your Life," "Hot Shots!" etc. He has directed theater in Los Angeles, including work at Theater East, and the Santa Monica Playhouse.
"The Ballad of Mary and Ernie" stars James Lane as Marshall Ernie. James has appeared in episodes of "24," "NCIS," "Everyone Hates Chris," "The Unit," "Without a Trace," etc. Mary Venezuela is played by Vanessa Celso, who has appeared in the film "House Broken," and the theater production "Hatful of Rain," as well as the original web series "Road to the Altar." Nan, the Kid and Blad Bart (the villain of episode 1) are voiced by Darcy Halsey, Catherine Reitman and Jesse Corti respectively. Darcy has appeared in "CSI," "Scare Tactics," and "Madison Heights," Catherine was in "Knocked Up", "My Super Ex Girlfriend" and "Thank You For Smoking." Jesse Corti is a voice-over veteran of many years, he was the voice of LeFou in Walt Beauty and the Beast, as well as appearing on-camera in "All In," "The Incredible Hulk," "Bringing Down the House," "Gone in 60 Seconds," etc.
Each episode runs approximately five minutes. The show is now on-line, and can be seen at http://www.maryandernie.com
# # #