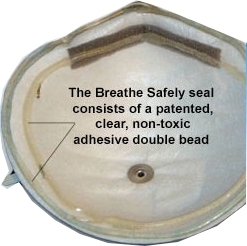 Breathe Safely, LLC is the next generation of personal protection and is taking steps to make the technology available internationally.
Baxter, MN (PRWEB) February 28, 2010
Breathe Safely, LLC is now working with two out of three of the largest international manufacturers of respirators worldwide. The two major respirator manufacturers are learning exactly what our product does and how it can drastically change respirator effectiveness and decrease user error dramatically.
Breathe Safely, LLC's seal within a seal, and sealed bridge is presently being reviewed by testing bodies such as NIOSH in the U.S. and also other countries. What Breathe Safely, LLC has developed is truly the next generation of personal protection. Breathe Safely, LLC has representatives nationally and internationally ensuring the integrity of our product and ensuring the next generation seal continues to provide the most protection available wherever the technology is used.
The product: a seal within a seal. It also has an optional bridging seal and works with a facemask or respirator. The reason the product is so important is because respirators and masks leak. Today's best respirators without a seal, any facial movement, or expression will cause failure which was demonstrated in a ten year study with a sample size of 3,998 subjects in 41 locations. (Assessment of The NIOSH Head-and-Face Anthropometric Survey of U.S. Respirator Users. Nat'l Academy Pr., 2007, page. 10). Harmful bacteria and infectious diseases often bypass the respirator and go directly through your mouth or nose into your lungs. Breathe Safely, LLC seals will ensure the respirator rests snugly on the face and follows facial movements. A seal within a seal adds even more protection and acts as a security measure should the first seal ever break. A respirator with a seal within a seal will fit a broader range of facial structures. The Breathe Safely next-generation seal tested at 270% more protection and can reduce the total inward leakage on any N95 certified respirator, flat masks, and medical masks.
Because the demand for this product is very high, Breathe Safely, LLC has filed for patents worldwide. Breathe Safely, LLC is the creator, manufacturer, and owns the technology required to produce the next generation seal. Steps are being taken to extend this product to leading manufacturers thereby allowing the next generation seal to be available to the international market and bring sealed masks (and other personal protection equipment) to retail locations here and abroad.
To find out more about Breathe Safely, LLC products, the seal within a seal, accessory seals, and respiratory protection visit http://www.breathesafely.com. Interested parties can contact Breathe Safely, LLC representatives through http://www.breathesafely.com.
###