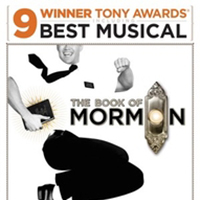 Lock in those hard to find close up seats now for The Book of Mormon with tickets from eCity Tickets.
(PRWEB) April 02, 2013
Theater lovers were intrigued when The Book of Mormon tickets first appeared for the March 2011 opening night in New York. That intrigue coupled with stellar stage performances quickly turned the musical into one of the most popular contemporary Broadway shows. And this religious satire has continued to play for sold out audiences across the US. Currently in an open run at the Eugene O'Neill Theater in New York, the pure talent and originality of the musical thrills and astonishes attendees night after night.
Much of the success of the musical comes from the fresh, uninhibited voices of Emmy award winners Trey Parker and Matt Stone, who are best known for their TV comedy South Park. Combined with the collaborative genius of Robert Lopez, who won a Tony for his masterpiece Avenue Q, The Book of Mormon Broadway show has become one of the most thrilling theatrical shows of the year. While the content is for mature audiences only, attendees aged 18 and older are refreshed by the candor and edginess of the show. The humorously blatant envelope push also inspires the cast, such as Graham Bowen, dance captain and swing performer in the show.
The main characters are Elder Cunningham and Elder Price, Mormon elders who strive to convert Ugandan villagers into their Mormon faith. In true entertainment style, they are an odd couple, one a blond Mormon poster boy and the other an overweight outcast. Together they are faced with many challenges as the native's battle hardships such as war, disease and violence, hindering their openness to the missionaries. On the surface, the casual observer may think the premise seems simple, but it took nearly seven years of development. Of course, after winning nine well-deserved Tony awards and a Grammy award, the finished show was definitely worth the wait. In fact, many find The Book of Mormon New York experience beautifully ineffable.
The Book of Mormon Broadway show is a perfect blend of shocking truths and entertaining tales, depicting Mormonism as mainstream both in religion and philosophy. And though the postmodern comedy will certainly offend some, those with a parallel sense of humor can't get enough of the brilliant creativity that exudes from the stage.
The Book of Mormon is also playing across North America this year at select cities like Chicago at the Bank of America Theatre, Boston at the Boston Opera House, Toronto at the Prince of Wales Theatre, Cleveland at the Palace Theatre and many others. For the bold and daring, those hard to find close up seats are always available at eCity Tickets. For an unforgettable show, visit them now for The Book of Mormon Tickets.