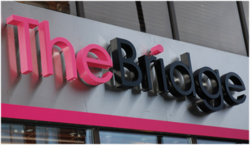 With such a great location and team, this will soon be THE women's-only health club to use in this part of central London.
(PRWEB UK) 22 May 2012
The ladies-only health club, The Bridge (London) is the latest club to join the world's largest gym access programme, payasUgym.com. Situated just a few minutes' walk from the South end of Southwark Bridge this venue is the ideal place to meet up with friends and colleagues.
You can hire a room for your business meeting or conference, work out in the new state-of-the-art gym, book yourself a relaxing massage in the treatment room, enjoy a variety of exciting studio classes and enjoy a delicious meal, coffee or glass of wine in their brilliant new licensed café.
With over 300 clubs already involved across the country, payasUgym is the largest network of its kind and has picked up numerous awards for innovation since launching just 15 months ago. The service and enables people to use gyms and health clubs across the UK on a flexible basis with the objective of getting more people involved in fitness.
Having initially launched in London in February 2011, payasUgym.com has grown rapidly and includes gyms and health clubs of all shapes and sizes. Gym users are attracted by the flexibility of the service and the variety of clubs involved, whilst gym operators are keen to benefit from the new customers that start using their facilities thanks to the marketing carried out by payasUgym.com. Gaining the support of gym operators has been key to the rapid expansion of this free-to-participate service.
CEO Jamie Ward said, "The Bridge is going to be a very popular facility with ladies that use payasUgym.com. With such a great location and team, this will soon be the women's-only health club to use in this part of central London."
To use the service customers simply create a free online account which they top-up with credit, similar to the process of topping-up a pay as you go mobile phone. They can then use this credit to buy passes for gym use at any of the listed gyms and health clubs which range from single day passes and a variety of short term gym membership options.
For further information on payasUgym, please contact:
PR(at)payasUgym(dot)com
07591922242
Notes to Editors:
Website: http://www.payasUgym.com
Company Information:
The idea for payasUgym.com was created by Jamie Ward and Neil Harmsworth after discussing the difficulties in finding decent gyms in London that you can just go to on a one-off basis.
payasUgym.com was launched in February 2011 and currently offers over 300+ gyms in the UK and is now the world's largest gym access programme.