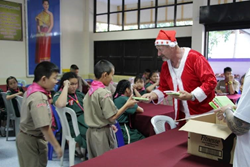 (PRWEB) December 29, 2015
On December 23rd, 2015, The Cabin Foundation, operated by The Cabin Chiang Mai Addiction Treatment Centre in northern Thailand, hosted a Christmas party for the students of Wat Ban Rai School – a charity school run by the Wat Ban Rai Temple in Chiang Mai. The intent was to spread some Western holiday cheer to the poor children of Chiang Mai this past Christmas.
The afternoon was brimming with laughter and joy as the children were thrilled at this unexpected visit. The Cabin Foundation volunteers kicked off the festivities by teaching the Thai youngsters to sing a number of popular Christmas carols in English, which they learned enthusiastically. After the caroling was over, the volunteers divided the children into groups for a round of fun classroom games with Santa Claus, who was impersonated by The Cabin Chiang Mai's Sober House manager. The party ended with Santa distributing small gifts to all the students who were extremely appreciative of the jolly interlude during their regular school day.
The Cabin Foundation is a non-profit organization set up by The Cabin Chiang Mai Addiction Treatment Centre in order to raise awareness of addiction issues in Thailand and to provide training and support to individuals and organizations working in the addiction treatment field. Working closely with the Thai health authorities and local community, The Cabin Foundation strives to create an environment where those suffering from the disease of addiction are treated with compassion and understanding and have access to effective, modern and proven treatment, especially those that cannot afford it.
For more information please contact The Cabin Chiang Mai directly or their PR representative Edelman Healthcare at:
The Cabin Chiang Mai
Reeya Chaicharas, PR Manager
+66 (0) 80446 8850, reeya(at)thecabinchiangmai(dot)com
Edelman Healthcare
Diane Barton, Account Manager
+61 (02) 9291 3368, Diane.Barton(at)edelman(dot)com
About the Cabin
The Cabin Chiang Mai is Asia's most respected inpatient drug and alcohol treatment center, with two facilities and a secondary treatment Sober House located in Chiang Mai. Since 2010 the Cabin has treated over 1,500 men and women from around the world with a programme completion rate of 96% and a recovery rate amongst the highest in the world.
The unique programme at The Cabin uses a combination of CBT, 3 Circles and a secularized version of 12 Steps; plus mind mapping, mindfulness therapy and physical exercise therapy. A fully inclusive 28 day programme at The Cabin Chiang Mai costs $12,900, about a third of the cost of private rehabs in the West.