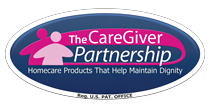 Neenah, WI (PRWEB) November 16, 2012
For many caregivers, the job of taking care of an ailing loved one is not always a choice made willingly, but rather an obligation they have because of their care and compassion for their family and friends. Caregivers extend a lot of their time and energy to help their loved ones live at home in comfort while also maintaining their dignity. The resources to help them do this job are not always easily available. Now, through help from The Caregiver Partnership, families are able to get the advice and help they need and purchase the right home-care products as well. The Caregiver Partnership has recently added many more resources online bringing the total to 1361 of the most useful caregiver resources in one convenient place. To help promote this service, The Caregiver Partnership has teamed up with LAD Solutions, a well-respected Los Angeles-based Internet marketing firm to help reach many in need across the country.
The Caregiver Partnership was founded and is run by women who have experienced the demands of being a caregiver to a family member. After their own experiences left them feeling lost and uncertain of which products they should purchase or how much of a certain supply they would need, they decided to start The Caregiver Partnership as a way to provide homecare products to people who are taking care of their family in their home.
On The Caregiver Partnership website, families can search for incontinence supplies and products. Because so many caregivers are not always certain of which product works best for their loved one, The Caregiver Partnership offers to send samples so that families can know what they are getting before investing a large sum of money into an order for homecare products. In addition, The Caregiver Partnership has a number of resources available and a team of product experts on hand to help answer questions that their customers may have, for the purpose of helping to guide people toward making the right decision when purchasing incontinence products for their families, and to help their clients ultimately save money by avoiding buying products that do not meet the needs of their family member.
Now, The Caregiver Partnership has teamed up with LAD Solutions to help with their promotions. LAD Solutions is an online marketing firm based in Los Angeles. Together, they are working to help create more awareness around incontinence and the products needed to care for this common condition, and give a helping hand to caregivers. By promoting their online presence, LAD Solutions hopes to target families across the country and give them a central community where they can reach out for help.
About The Caregiver Partnership: Before starting The Caregiver Partnership, founder Lynn Wilson was caring for her father and was in need of a resource to help her find the supplies necessary to provide the type of care he required. After having difficulty finding these supplies, she realized that she was not alone in this struggle. Now, The Caregiver Partnership provides fast supplies delivered directly to the doorsteps of consumers. Shipping is always free. The Caregiver Partnership also focuses on providing a number of resources to help caregivers who may be unsure of what their loved ones need. For more information and to view their selection, visit http://www.caregiverpartnership.com.