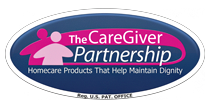 Homecare Products That Help Maintain Dignity
Neenah, WI (PRWEB) January 13, 2013
The demand for homecare incontinence products continues to grow in the U.S. With the increase in demand, consumers have also started to care about the quality and consultation they receive before making a purchase. The Caregiver Partnership is attempting to stand out from other retailers by offering consultation and access to the caretaker resource library, thus allowing customers to acquire in-depth details about a particular product. The promotions are being carried out by LAD solutions, a popular internet marketing firm that is based in Los Angeles, California.
The company has occupied a new TV spot that will begin airing in January on cable TV in markets around the U.S. The new spot will be aired in equal rotation with another spot that they are finishing right now. The aim is to spread awareness with regards to home care products, while allowing customers to also call and receive a complimentary catalog that contains $60 in money saving coupons. The company plans to run spot this until they receive 650 catalog requests.
The Caregiver Partnership provides an opportunity to select from over 500 sizes, styles, absorbencies, and brands. The products are always in stock and customers are given an opportunity to try out samples before a purchase is made. Apart from specializing in incontinence products and supplies, the brand also offers products related to mobility and skincare. They even deliver freshly prepared home meals for those who are unable to go out on their own.
It's common knowledge that getting the right advice on homecare products can be difficult. The Caregiver Partnership, on the other hand, has a knowledgeable team of product specialists. The majority of the product specialists are women who are caregivers now or have been caregivers themselves. They're highly knowledgeable about the complete line of products and services offered by the company. Compared to stores where people aren't knowledgeable and specialists are too busy to offer advice, The Caregiver Partnership product specialists' team has the answers to all customer queries.
The company also offers a delivery service that is automatically scheduled, allowing customers to choose how many times they want delivery. More information about their products, services, consultation, and delivery can be viewed on their online website.
About The Caregiver Partnership: The story began when Lynn Wilson was caring for her father, discovering the large amount of time spent on trips to the store and extra trips due to buying the wrong size initially. The stores had no one with sufficient knowledge to help. The Caregiver Partnership has a unique consultation service that doesn't attempt to sell, but allows customers to make their own decisions through the knowledge they gain. The company offers a wide range of home care products with a consistent delivery schedule. Those interested in acquiring knowledge about home care products can head over to the official website.