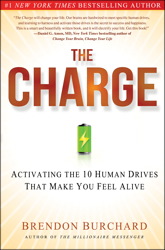 Houston, TX (PRWEB) May 01, 2012
Brendon Burchard, best selling author and creator of High Performance Academy, is giving away free copies of his newly released book called The Charge. The Charge is an inspiring guide to the one thing everyone wants; more life in their lives. In today's world, people want to know how to live the best life possible as quickly as they can with the most energy, and this is the promise of the book.
Prior to opening his High Performance Academy, Burchard is giving away copies of his book and providing free training to all those who sign up to receive his book. Provided with the book are 3 in-depth and invaluable training videos on how high-performing millionaires maintain their internal charge and energy, manage their time, influence others, and achieve more. In addition, they will receive The Charge Life Assessment which will help one zero in on their areas of passion and competence and design a challenge plan that will help them reach their dream life faster.
"There hasn't been a game-changing book on personal development in a long time. The wait is over. The Charge confronts our very notions of what drives us as humans, and it brilliantly illuminates the path for how you can feel more alive, productive, and fulfilled. After reading this book you'll find a new internal charge that's stronger and more energized than you ever imagined possible," states Jack Canfield, co-author of the Chicken Soup for the Soul.
For those who want to get access to the free book and gifts can just go here to get access now.
For those who wish to learn more about The Charge and the special offer should visit http://barryrealmarketing.com/brendon-burchard-free-book-the-charge.