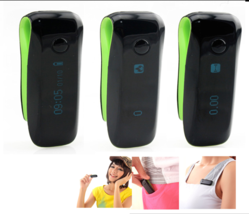 The Clip has made keeping track of my daily activity and sleeping patterns easy. It is simple to use, has amazing functionality and is excellent value for money - I wish it had been around sooner!
(PRWEB UK) 28 June 2013
The Clip activity tracker is a revolutionary device for anyone interested in fitness that will track a users activity levels through a 24 hour cycle. During the day it counts activity level in steps and distance, the time spent exercising, how many calories are burnt and how much of a personal daily goal has been achieved. At night it tracks sleeping patterns to show how to get a better night's sleep, which in turn aids exercise and fitness. All of the information The Clip collates can be synced with a PC via USB so a user can analyse activity and sleep using free charts and graphs.
The Clip can be attached to a belt, vest, put in a pocket or worn on a wrist at night. It is small and compact and one charge will last 5 -7 days. It is easy to use with a single button and the 3D acceleration sensor will track each and every movement that a user makes. The Clip is lightweight and has an impressive 15 day memory – making it perfect for use on holiday. It is scratch and abrasion resistant and includes a PC program that helps to track personal data.
To use The Clip set a daily activity goal, attach it to a piece of clothing or put it in a pocket and it will get to work, recording activity. At night, put it on the wristband and wear it all night. Download the information from The Clip and see, in the form of charts and graphs activity levels and sleep patterns – it really is that straightforward.
The Clip has an RRP of £49.95 but is currently on a launch price of £29.95 available at XNFit.co.uk