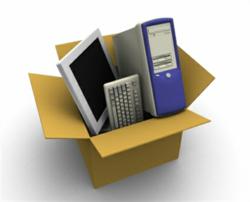 Los Angeles, CA (PRWEB) January 09, 2013
The nation's fastest growing commercial relocation company, The Commercial Movers, has just added a brand new truck to its expanding fleet, vastly improving the office moving services the company offers. The truck, an environmentally-friendly, bio-diesel beast, allows The Commercial Movers to perform more office moves than ever before, and it's the perfect size for all types of office furniture, equipment, and materials. The move comes on the heels of the company unveiling a fresh, new website, as well as, hiring a team of the best office movers in the country. The Commercial Movers is quickly becoming the national leader in office moving, helping business make a seamless transition to a new location. They continue to expand and improve, providing comprehensive and affordable office moving services.
The Commercial Movers has been performing all manner of commercial moves for years, and has experience working with offices, warehouses, retail facilities, restaurants, medical clinics, and even airports, to name a few. Their office movers are industry experts, and go through an innovative and grueling training process that keeps their skills at their peak. That training makes them authorities on the packing and moving process, allowing them to handle desks, chairs, conference tables, network servers, computers, and all types of office items. Moreover, The Commercial Movers' entire fleet of top-of-the-line trucks is equipped with GPS for easy navigation, and they use only the strongest and safest packing materials. When storage is required, they have space available in a state-of-the-art, secure, storage facility; featuring 24/7 video surveillance and a climate-control system that ensures all items remain in pristine condition.
The Commercial Movers works tirelessly to ensure that each business faces as little downtime as possible during a relocation. Their office movers understand that efficiency and care are necessary for every relocation, which has helped them develop lasting relationships with each business they move. The company continues to evolve and adapt aggressively to match the changing needs of the market, and as an independent company they continue to fuel the economy. When office moving is on the agenda, be sure to call or go online to check out The Commercial Movers.