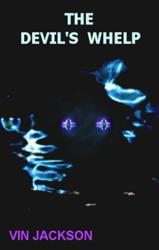 Although Lynn is no longer with us, his invaluable contribution to the story is felt on practically every page.
Harvey, Western Australia (PRWEB) March 02, 2012
A reader looking for intrigue, suspense, and gruesome horror in a setting that raises the stakes can pick up "The Devil's Whelp" by Vin Jackson and step aboard the Olympian, an accurately described, floating exploration rig, crewed by eighty tough, no-nonsense oilmen, who mistakenly think that Scott Reef #8 is just another routine job.
The drilling awakens something in the deep that wants to play a cruel game with the crew of Olympian—a game with win or die stakes. It's up to toolpusher Del Presswood—the only one who understands the situation—to figure out how to convince the others of how much danger they face and plan a counterattack to save their lives.
The book is grounded in reality, with vivid and gritty details of oil rig life provided by the late C. Lynn Martin, to whose memory the book is dedicated. Martin, who worked on an oil rig before his untimely death, was Jackson's next-door neighbor, and offered expertise and detailed research to help Jackson create verisimilitude in the tale.
Each time Martin returned to the rig for his twenty-eight day shift, he brought with him Jackson's latest draft and list of numerous questions from the author. Martin's research was exacting because, for him, the facts had to be right. So, he took photos, timed events, assessed feasibility, tested various scenarios, and studied the interaction and character of the crew.
In a testament to the gripping nature of Jackson's macabre storytelling, reading the manuscript had the power to spook even his researcher—despite his insider's view. One night, after Martin finished reading Jackson's latest chapter, he had to walk the same route as one of the characters, and as he traipsed the ship, his hair stood on end as he became overwhelmed with a paranoid sense that something dreadful was hiding in every shadow. "I was sure as hell glad to get back to my cabin," he later admitted to Jackson. Sadly, Lynn didn't live long enough to read the completed book, which the grateful author dedicated to his memory. "Although Lynn is no longer with us," says Jackson, "His invaluable contribution to the story is felt on practically every page."
Jackson, realizing that most of his readers won't have the unique opportunity to read his novel while aboard an oil rig, recommends that for maximum enjoyment his book be read "at night when all is quiet; and use only a small lamp which casts plenty of shadows." But those who don't like to be frightened, warns Jackson, should steer clear. The author offers an extended preview so that readers can see if "The Devil's Whelp" is their brand of horror.
"The Devil's Whelp" is published exclusively in eBook format by eBookIt.com and is available from popular online retailers, including Amazon.com, Barnesandnoble.com, Apple's iBookstore, and the Sony Reader Store.
About Vin Jackson
Vin Jackson, author of the mature heroic fantasy novel, "Reborn", and a fan of Stephen King, is an Australian writer who began to write as an antidote to his role as a stay-at-home dad. Jackson believes horror should push the reader's grip on reality—to start them thinking about their predictable, comfortable existence and lead them to wonder if it might be less safe then they had always assumed—and that idea grew into "The Devil's Whelp".
About eBookIt.com
Since 2010, eBookIt.com, (based in Sudbury, Massachusetts) has helped thousands of authors and publishers get their books converted to ebook format, and distributed to all the major ebook retailers, including Amazon.com, Barnesandnoble.com, Apple iBookstore, Kobo, Sony Reader Store, Ingram Digital, and Google eBookstore.
###