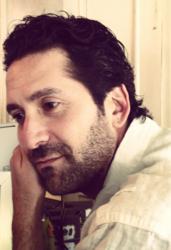 The Famous Group's integrated approach is an incredible opportunity for me to expand my commercial work into the full spectrum of branded content for broadcast, apps and the web.
Culver City, CA (PRWEB) June 26, 2013
Jay Karas, a director known for his comedic television and promo work, has signed with integrated production company The Famous Group.
Karas recently completed his third season as showrunner and director of Chelsea Handler's scripted half-hour series "After Lately" for E! Entertainment, and just signed to direct his first episode of NBC's Emmy Award-winning "Parks and Recreation," airing this fall. He has also directed multiple episodes of Comedy Central's "Workaholics" and "The Burn with Jeff Ross," Adult Swim's "Eagleheart," Fox's "Mad TV," Disney Channel's "So Random" and others.
In addition, Karas has directed stand-up specials with top comics such as Jim Gaffigan, Bill Burr, Bob Saget and DL Hughley, and worked with Mark Burnett as short films director and consulting producer on the 2011 MTV Movie Awards hosted by Jason Sudeikis.
A highlight of his promo work was the high-visibility campaign to launch "Conan" on TBS, as well as three additional campaigns for the show including the viral hit "Conan Washing His Desk!" Karas directed promos for ABC's "Good Morning America" featuring Jamie Foxx and Oscars-premiering spots for "Don't Trust the B in Apt. 23," Coke Zero and "Men at Work" promos for TBS, and launch campaigns for E! and Disney XD.
"Jay Karas brings infectious energy to projects, and understands the worlds of directing for commercials, TV and film," said David Kwan, Managing Director, The Famous Group. "We really believe in his comedic sensibilities, as evidenced in his work with stars like Conan O'Brien, Will Ferrell, Reese Witherspoon and many others. It's great to have a director who works effectively with both major celebrities and top brands."
"The Famous Group's integrated approach is an incredible opportunity for me to expand my commercial work into the full spectrum of branded content for broadcast, apps and the web," said Karas. "I love the process of translating humor visually into something that's entertaining, but that also moves people. Now I get to do that with big brands across all platforms."
Karas joins Hailey Bartholomew, Kip Hewitt, 2011 Doritos' "Crash the Super Bowl" winner Tynesha Williams, Scott Toepfer and G-Roll on the growing group of Famous Directors.
Along with its signature roster of Famous Directors, The Famous Group maintains an extensive network of innovative directors, cinematographers, filmmakers and others under the Famous Association banner. This network of creative professionals brings specific talents, artistic styles, unique perspectives and valuable experience to projects.
About The Famous Group:
The Famous Group is a full-service hybrid production company in Culver City, CA and New York, NY, handling all aspects of live action filming and editing, CG/motion graphics, digital development and production for broadcast and the web under one roof. The company provides agencies and brands with experienced in-house resources for discovery (market research, analytics, social media monitoring), strategy (planning), execution (live action film and production, information architecture, user experience and interface design, technology development, back-end integration and deployment, Facebook and mobile apps, animation, motion graphics, augmented reality, etc.) and performance (content syndication, social media outreach and racking, community development and more) services. The Famous Group was the winner of a 2013 AICP Next Award for their work on AT&T's "Brackets by Six-Year Olds", a 2013 NY Emmy in sports graphics for the New York Jets Television Network, a 2012 AICP Award for "Harlem Elvis" on behalf of the Office of National Drug Control Policy, contributed interactive work that won a pair of 2012 OneShow Pencils and a Clio Award for agencies, and won dozens of Addy, Telly, Communicator, ICA, FWA and other awards. For more information, please visit http://www.thefamousgroup.com.