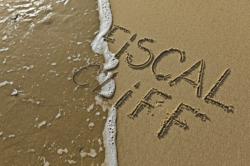 "The fiscal cliff deal avoided significant austerity measures in the U.S., but many Americans may not see a break on their budget in 2013. In fact, most will see tax increases that are unlikely to help pay off the balance of their debt." -David Chang
Chicago, Illinois (PRWEB) January 07, 2013
The January 1st 11th hour deal by President Barack Obama and Senate Republicans, which avoided the 'fiscal cliff', has stirred intense debate and media coverage in recent weeks. The fiscal cliff is the term given to measures that would have worked to pay off the balance of the U.S. budget deficit in 2013. Through increased taxes and reduced spending, the budget deficit was projected to be cut in half by the end of 2013.
However, because of the fiscal cliff measure's potentially devastating tax hikes and spending cuts on the stressed U.S. economy, the American Taxpayer Relief Act of 2012 was passed, eliminating the teeth of the measures.
Much of the debate about this event has centered around the long term affects of the deal, but what of its impact on ordinary Americans trying to pay off the balance of their credit card or mortgage debt?
Attorney David Chang, a partner at Chang and Carlin, LLP isn't convinced that the 2012 Relief Act will have a significant effect on the average American family. "The fiscal cliff deal avoided significant austerity measures in the U.S., but many Americans may not see a break on their budget in 2013. In fact, most will see tax increases that are unlikely to help pay off the balance of their debt."
The Fiscal Cliff Deal's Impact On American Families
Some of the most pertinent items of interest for families struggling to pay off the balance of various debts are as follows:
Payroll Tax Increases
CNN Money notes that as a result of the deal, wage earners will now pay a 6.2% payroll tax on the first $113,700 in wages since the deal did not extend the 4.2% rate that had been in place for two years. That means workers earning the national average salary of $41,000 will receive $32 less on every biweekly paycheck.
According to William G. Gale, Co-Director, Urban-Brookings Tax Policy Center, this will affect many low-income Americans: "For most households, the payroll tax takes a far bigger bite than the income tax does, and the payroll tax cut therefore…was a more effective stimulus than income tax cuts were, because the payroll tax cuts hit lower in the income distribution and hence were more likely to be spent."
Debt Forgiveness
Attorney David Chang also notes that homeowners who receive principal forgiveness or go through a short sale or foreclosure will benefit by not having to pay tax on the amount of debt forgiven, since the deal extends this 2007 measure for another year. Furthermore, Jaret Seiberg of Guggenheim Partners states that, "An extension of the tax break is positive for home values by reducing the number of foreclosures and helping more troubled borrowers stay in their homes."
Extended Tax Breaks
A number of tax breaks are also extended. Teachers can continue to get a $250 break on school supply expenses. Eligible students can continue to deduct tuition and other education-related expenses. Individual Retirement Account holders who are older than age 70.5 can continue to make tax-free distributions for charitable purposes. As mentioned by William Gale above, low income individuals may find these tax savings extremely useful for things like buying necessities and working to pay off the balance of debts.
However, despite the modest benefits to low income Americans, the Tax Policy Center, a nonpartisan Washington research group, estimates that 77 percent of Americans will be paying more in taxes in 2013 than they did in 2012 under the Taxpayer Relief Act.
The deal postponing the fiscal cliff most likely saved many struggling Americans from increased tribulations in 2013. However, only time will tell whether it will improve the economy enough to reduce unemployment, bankruptcy, foreclosure, and the myriad of financial issues that Americans faced in 2012.
About Chang and Carlin, LLP:
The attorneys at Chang and Carlin, LLP provide Chapter 7 and Chapter 13 bankruptcy filings, real estate services, and IRS tax help. For any bankruptcy and real estate legal needs, Chang and Carlin, LLP provide the necessary legal experience and personal service that clients deserve.