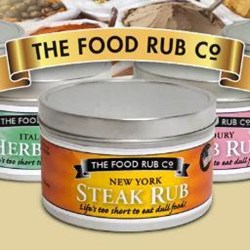 Delicious Food Rubs Will Add Flavour To Your Food!
Hale, UK (PRWEB) September 21, 2013
The Food Rub Company has launched a new website that aims to help you 'spice up your life' with a range of healthy and flavoursome food rubs for a whole host of different uses in day-to-day home cooking.
A food rub is a powdered mixture, typically containing a carefully balanced blend of herbs and spices, which works as a kind of dry marinade to add flavour and enhance the natural flavour of meat, fish and poultry.
You apply a food rub by first patting dry the meat – whether it be chicken, pork, steak or fish - then firmly rubbing the blend of spices into the flesh, creating a flavoursome surface coating and a delicious enhancement that penetrates the upper layers of the meat itself.
Food rubs are ideal for different groups of people:

Dieters looking for a low-salt and low-sugar way to add flavour to their food;
Body-builders keen to enjoy a varied diet, but with a focus on protein;
Adventurous eaters seeking a new experience for their palate;
BBQ enthusiasts looking to add a bit more flavour to their meat.
With a new website launched to help more Britons discover food rubs for the first time, as well as to expand their range of different herb and spice blends that they use in their cooking, The Food Rub Company is helping the UK to embrace this trend, which is already hugely popular in the US and worldwide.
The Food Rub Company's Kerry Costello says: "Food rubs are a great way to add flavour quickly and cleanly, as little as 10-15 minutes before meat is cooked, and without the mess of a wet marinade. If you prefer a paste or sauce, food rubs can be blended into oil, yoghurt, honey or butter for a sauce, flavour-packed puree or glaze.
"Our food rubs are made for adventure, and you can mix and match the spice blends you use on different meats, until you find the perfect combination for your own palate. Vegetarians can use them too, simply by coating chopped vegetables with a food rub before cooking."
About The Food Rub Company
The Food Rub Company specialises in a range of spice blends that can be rubbed directly into meat, poultry, steak and fish before cooking. Relatively new in the UK, this dry alternative to wet marinades is commonplace around the world, and is growing in popularity rapidly among British households. To learn more, visit http://www.foodrubs.co.uk.