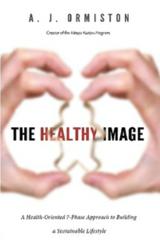 Phoenix, Arizona (PRWEB) February 01, 2013
According to a recent article published on the website Dawn.com entitled "To keep New Year's fitness resolutions set realistic goals"; the key to being able to keep that New year's resolution for better fitness and health is to set realistic goals. The month of January is coming to a close. This is the time when many well-intended fitness programs begin to "fizzle out" due to lack to proper goal setting and planning.
Gregory Chertok, sports psychology consultant stated the following about the fact that people tend to set lofty goals without anticipating the obstacles that will crop up along the way. "Many hopeful exercisers I've spoken with will set goals beyond their physical and emotional capabilities," he said. "With the New Year comes this new-found dedication but you are who you are. People don't plan for laziness or fatigue or predict their desire for junk food."
The Healthy Image by A.J. Ormiston is designed specifically with the intention of helping those who are embarking on an improved level of health and fitness to develop customized, attainable and sustainable goals. The guidelines outlined in the book lead the reader into a whole new way of looking at the option of incorporating a yoga-based approach into fitness.
The trick for most people is determining how to establish long and short-term goals with underpinnings for long-term success. The Kindle version of The Healthy Image is affordable at only $2.99 at the Amazon Kindle Store. The book helps to set the stage for long-term success in a way that is unique and sustainable. The affiliated workouts launch a yoga-based full body approach to fitness. Incorporating a reasonable nutrition plan along with yoga-type body weight exercises, The Healthy Image seeks to steer the reader into a balanced, independent and simplistic approach to a life infused with healthy choices.
The key is not to buy into the "cookie cutter" mentality of some unattainable body image type, according to AJ Ormiston. Whether it is yoga training, triathlon training or setting the goal to walk everyday the challenge is to launch new habits from the right mindset when it comes to true health and fitness.
For more information about AJ Ormiston visit: http://www.amazon.com/Aaron-Ormiston/e/B00B5J4OAC. Mr. Ormiston is also the creator of fuzionprogram.com.