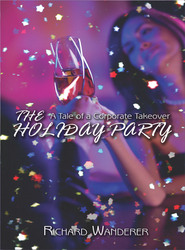 A sharply observed tale of workplace tyranny … The author clearly knows his territory.
(PRWEB) July 28, 2010
In the dedication of his suspense novel, The Holiday Party (A Tale of a Corporate Takeover), author, Richard Wanderer, stated, "This work of fiction is dedicated to the American employee – all those who have dedicated their sincere efforts to helping their employer build a successful business, only to find that, one day, strangers with a different agenda have taken over the company they helped to build. If this has happened to you, then this could be your story." This novel is now also on Kindle, too. Its website is http://www.theholidayparty-ataleofacorporatetakeover.com
In the novel, which is set in New York City, Los Angeles and Washington, DC, the reader follows the lives of employees of an ethical and benevolent family owned national magazine when it is taken over by a huge media conglomerate. As a result of the change in management, the door is now opened to workplace predators, poisonous office politics and a downward trend in business. To add some extra "bling" to his novel, the author researched the Wicca religion and elements of it are found in the storyline.
Recently given the prestigious designation of "Editor's Choice" by its publisher and Kirkus Discoveries in reviewing it stated it is, "A sharply observed tale of workplace tyranny … The author clearly knows his territory." Anita Finley a columnist for the Miami Herald and also the publisher of Boomer Times & Senior Life in her review stated, "As in most of the corporate world, there are plots, sub plots and then underlying plots. That was the case with this very intricately woven novel. The good guys seem to be taken over by the bad guys, but in the end, it seemed that justice prevailed. Lust, greed, sacrifice, friendship and sabotage are experienced in almost every chapter. It was a real page turner, to be sure. The author, Richard Wanderer has a great future as a novelist as he satisfactorily involves the reader in the complexities of the human psyche of his major characters and they are really believable."
The author, Richard Wanderer, became a lawyer and a member of the California Bar, later in life, after spending many decades working in the advertising sales departments of major national magazines and newspaper chains in New York City and Los Angeles.
http://www.theholidayparty-ataleofacorporatetakeover.com/
###