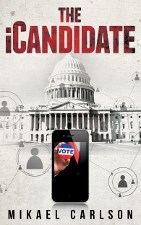 Although it is a work of fiction, hopefully the work will show America exactly the type of leader we expect to elect and represent our interests.
Danbury, CT (PRWEB) October 28, 2013
Mikael Carlson, an author who has written three full-length motion picture screenplays, has just announced the release of his first book. Titled "The iCandidate," Carlson's new release is available on Amazon, as well as the Barnes & Noble website and other online bookstores. Readers may also order the book through traditional brick and mortar book sellers.
"The iCandidate" tells the gripping story about Michael Bennit, a high school history teacher with a good job, a lovely fiancee and a happy life. In an effort to teach his students a meaningful lesson, he accepts a bet with them that has unusually high stakes—if he loses, he has to run for Congress. The story, which his written in a first person, multiple point of view format that grabs the attention of readers and helps them feel as if they are part of the story, follows Bennit and some of his best and brightest students as they experience what it is like to go through an American mid-term election cycle. In the course of the book, readers get to know Bennit, as well as his top student Chelsea, Blake the conniving opportunist, and a talented young journalist named Kylie.
Rather than run a typical campaign, Bennit decides to use only the power of social media to make the public aware of him and his ideas. This approach gains national interest and becomes a real threat to rival politician Winston Beaumont, who is intent upon keeping his seat in Congress.
"The story of Michael Bennit is an underdog story everybody can relate to," Carlson said, calling his book a "hero's journey" of a typical guy venturing into the shark-infested waters of a Congressional campaign using only social media to make his voice heard.
"Although it is a work of fiction, hopefully the work will show America exactly the type of leader we expect to elect and represent our interests."
The story that Carlson creates in "The iCandidate" is not entirely implausible. The popularity of social media websites and viral videos have exploded in recent years and they, along with the Internet, have influenced and changed the way people communicate, make opinions, and share information. These methods are highlighted over the course of the book, illustrating the work as a precursor to how campaigns might be managed in the future.
People who are interested in learning more about Carlson and "The iCandidate" may visit his website at any time, as well as both GoodReads and Shelfari, which are great resources where readers can read about the book and provide ratings and feedback.
About Mikael Carlson:
Author Mikael Carlson currently serves in the Rhode Island Army National Guard, where he holds the rank of Staff Sergeant. The 18-year veteran has been deployed twice during his military career. Carlson has served in field artillery, infantry and special operations units during his career on active duty at Fort Bragg and in the Army National Guard of three states. "The iCandidate," is an adaption-in-reverse from the 2010 Page International Screenplay Competition finalist, and was published in October 2013 by Warrington Publishing. Carlson was raised in New Milford, Connecticut and lives in nearby Danbury. For more information, please visit http://www.mikaelcarlson.com/.