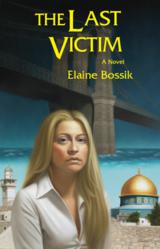 "Sophie, the antagonist of The Last Victim, becomes involved in her own real estate frenzy," says Elaine Bossik.
Boynton Beach, FL (PRWEB) September 29, 2011
In the newly published novel, The Last Victim, author Elaine Bossik dramatizes two longstanding and recurring Florida trends: Northerners retiring in the sunshine state and real estate speculation.
Ms. Bossik, a former New Yorker who moved to South Florida, recognizes the get-rich-quick real estate frenzy that captivated many Floridians over the past few years and motivated the main character in her novel.
"Florida has long been a retirement destination and a place for real estate speculation," says Ms. Bossik. "Sophie Rothman, one of the main characters in my novel, follows a similar path, retiring to Florida in the 1960s and gambling on its real estate."
The novel shows how Sophie Rothman, a mother of three children, becomes obsessed with hoarding money, which she accumulates through her real estate ventures. Her obsession threatens to tear her family apart and leads to a shocking revelation that nearly destroys her daughter's life.
As far back as the 1920s, Americans from the northern states flocked to Miami and speculated on real estate, driving up prices and precipitating a boom and bust. Frederick Lewis Allen illuminates this history in his book, Only Yesterday.
The next real estate boom that began in the 1950s and lasted until the 1970s has been called "Florida's Golden Age of Land Scams," according to J. Bruce Cummings Jr. in A Brief Florida Real Estate History, a research paper. And history repeated itself in the recent Florida real estate frenzy that ended in foreclosure and financial ruin for many homeowners.
"Sophie, the antagonist of The Last Victim, becomes involved in her own real estate frenzy," says Elaine Bossik. "Her goal as a speculator is to become rich. When confronted by her daughter, Jeanie, about past misdeeds, Sophie uses her wealth to rationalize her actions."
But, just as the housing boom of the 1920s, the 1950s-1970s, and recent years ended in a tragic bust, so too does Sophie's relationship with her daughter come to a tragic conclusion.
For northern retirees living in Florida, The Last Victim will prove to be an enlightening novel. It provides a dramatic perspective of the past with an ironic link to present day.
For more information about The Last Victim or to schedule an interview, please contact Elaine Bossik at 561-364-2358 or elainebossik(at)yahoo(dot)com.
About the Author: After receiving BA and MS degrees from Brooklyn College (City University of NY), Elaine Bossik worked as a New York City teacher, an editor, a medical writer, and a staff columnist for Scriptologist.com. Though her professional experience has helped shape her writing, her fascination with people is the inspiration for her fiction. Growing up in Brooklyn, NY, and as a young adult traveling in Israel, she found the rich details for the events that take place in this novel. Visit Elaine Bossik's Web site at http://www.elainebossik.com for more information.
Book Statistics
Title: The Last Victim
Author: Elaine Bossik
ISBN: 978-0-9842419-0-3
Category: Fiction
Length: 263 pages
Retail Price:
$14.95 paperback
$9.95 Ebook
Binding: 5.5x8.5 paperback
Illustrations: Original cover illustration
# # #