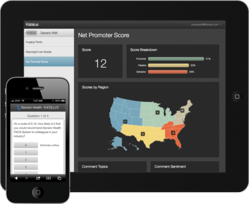 Reaching out to your customers once or twice a year with an oppressive 25- or 30-question survey is not the way to do it.
Alpine, UT (PRWEB) October 24, 2012
"You're doing it all wrong."
That's the message Katalus CEO Jeremy Bikman drives home when talking to enterprise clients about gathering feedback from their customers.
"Customer insight drives everything, from product development to new marketing strategies," Bikman said. "But reaching out to your customers once or twice a year with an oppressive 25- or 30-question survey is not the way to do it.
"That approach not only delivers a single-digit response rate, it also shows a complete disregard for how customers, especially decision makers, want to communicate with vendors in the age of Twitter and texting," he said. "Add to that the fact that executives are bombarded throughout the year by survey requests from analyst and market research firms, and it's easy to see why crucial customer feedback is so limited."
That realization is what led Bikman and the Katalus team to create PeerIntel – a solution that gathers rapid and recurring customer insight by focusing not just on the data but also on the customer experience. Unlike painful and interruptive traditional customer research, PeerIntel fits quickly and easily into an executive's workflow.
To do this, PeerIntel combines two key elements: a simple but powerful survey platform that's designed for smartphones and tablets, and Katalus' extensive expertise in customer research, which spans more than a decade. Since respondents can complete a PeerIntel survey in less than 60 seconds on a mobile device, response rates from executives are extremely high, and customers are willing to participate over and over again.
Katalus customer Sectra, a global radiology vendor, uses PeerIntel to gather customer loyalty metrics based on Net Promoter Score, as well as information about buying priorities and upgrade timelines. Within 2 weeks, Sectra had gathered feedback from nearly 60 percent of its North American customer base, without having to tax its sales team and other internal resources.
"We learned a great deal very quickly," said Mikael Anden, president of Sectra in North America. "Not only were we pleasantly surprised that the number of Sectra promoters was even higher than we expected, but we also gathered actionable data about which of our customers were planning to upgrade and what their top buying priorities were."
Other customers have enjoyed similar success.
According to Bikman, the company's goal is not to provide a better survey tool. "We're changing the way your customers feel about surveys, so you can get the insight you need as often as you need it – at the speed of business," he said.
To request a live demo and see PeerIntel for yourself, visit http://www.peerintel.com/all.
About Katalus
Katalus helps healthcare organizations grow through a unique mix of cloud-based software solutions, strategic consulting, and business development and optimization. Our clients are found in North America, Europe and Asia. The principals of Katalus have worked with hundreds of healthcare organizations, vendors and other consulting firms across the globe.