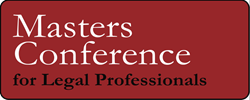 As Discovery Counsel for Intel, Alex brings a wealth of e-Discovery experience to our forum. This should be a great keynote for all of our attendees.
Orlando, FL (PRWEB) March 12, 2014
The Masters Conference for Legal Professionals, an advanced legal educational experience, announced today that Alex Ponce de Leon, Discovery Counsel at Intel Corporation, will deliver the keynote address on Wednesday, March 19, 2014, at their San Francisco event to be held at The City Club. Mr. Ponce de Leon will be discussing "Agility, Insight, & Execution: How e-Discovery Teams Can Change Your Organization" over lunch from 12:00pm–1:00pm PT.
Here is an overview of the keynote: Data silos cripple an organization's capacity to move swiftly and effectively when litigation hits. Collaboration can provide needed agility to pre-emptively respond to litigation and build an information management infrastructure that adds value to your business. During his keynote address, Mr. Ponce de Leon will examine the power of collaboration in the courtroom and within your own organization.
As Discovery Counsel for Intel, Mr. Ponce de Leon specializes in e-Discovery issues and serves on the Information Governance program team. His practice focuses on intellectual property, complex commercial litigation, and government investigations. Mr. Ponce de Leon speaks frequently on e-Discovery, Information Governance, and diversity in the legal profession. Prior to practicing law, he was a policy advisor to the California State Legislature and a management consultant for Accenture.
"We are very excited to have Alex as our keynote speaker at this year's San Francisco Masters Conference event," said an enthusiastic Robert Childress, CEO of The Masters Conference. "As Discovery Counsel for Intel, Alex brings a wealth of e-Discovery experience to our forum. This should be a great keynote for all of our attendees."
The theme of the 2014 Masters Conference is "Managing the e-Discovery and Social Media Minefield." Experts from both technology and legal sectors will explore and share what leading corporations and law firms are doing today to keep up with the ever-changing e-Discovery and social media landscape. The Masters Conference sessions will cover the complexities and risks of social media, as well as offer methodologies of protection and proper protocol. Featuring thought-leader discussions on what the future holds for discovery, the panels will also offer management strategies that focus on social media, technology and integration, financial planning, and adherence to the FRCP.
Please go to http://www.themastersconference.com to register for San Francisco, see the full lineup of speakers, and to find out more information about upcoming Masters Conference events in Chicago, Philadelphia, and Washington DC.
About the Masters Conference
The Masters Conference provides practical CLE education for lawyers and litigation support professionals that are delivered by experts with front-line experience. Session content for each event is developed by an advisory cabinet of industry thought leaders. Attendees will gain practical knowledge, presented by peers, on current issues that can be applied immediately to everyday practice. Registration is limited for all events. To register online for Masters Conference events, please visit http://www.themastersconference.com. You can find The Masters Conference on Twitter @MastersConf and #MCLP12 on Facebook and on LinkedIn.