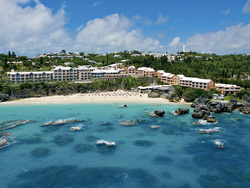 Given the number of repeat visitors who have been fiercely loyal to The Reefs over the hotel's long history, we wanted to create an opportunity for them - and other Bermuda enthusiasts - to own a piece of this special property
Ferndale, WA (Vocus) January 7, 2009
Widely renowned for its hospitality, turquoise-colored water, and pink-sand beaches, Bermuda is one of the most accessible island destinations for Canadians. The ideal location and climate render Bermuda a logical second home destination, but for years real estate has been virtually unattainable for foreigners. The recent advent of fractional ownership, however, is finally attracting greater numbers of foreign buyers. The newest such property is The Reefs Club, a private residence club due to open June 2009 next to Bermuda's most award-winning hotel, The Reefs.
While Bermuda's government strictly limits the sale of whole ownership real estate to non-Bermudians - a practice which drives home prices into the millions of dollars - The Reefs Club offers affordable luxury with hotel-style services and amenities. Despite the current recession, Canadians are showing a keen interest.
"We are receiving an enthusiastic response, particularly from Calgary and Toronto residents," reports Sales Director Chrissy Frith. "They have a strong affinity for Bermuda thanks to easy flight access, desirable weather, natural beauty, and friendliness of Bermudians. One Canadian couple that has visited Bermuda for over 30 years always wanted a home here, but found real estate to be prohibitively priced. The Reefs Club is a perfect solution because of the fractional price, unprecedented strength of the Canadian dollar, and its prime location on a private beach."
The Reefs Club currently offers pre-completion pricing for one-tenth, deeded ownership. Two-bedrooms are US$350,000 while three-bedrooms are US$410,000. Each residence is fully furnished in a contemporary, Bermudian style and features superior entertainment systems and appliances, spa bathrooms, private hot tubs on the verandas, and unobstructed ocean views. Owners will enjoy a rooftop putting green overlooking the ocean, infinity-edge pool, state-of-the-art fitness center, concierge service, and more. They will also have convenient access to the new La Serena Spa and the property's three fine dining restaurants, two of which opened in August 2008.
"Given the number of repeat visitors who have been fiercely loyal to The Reefs over the hotel's long history, we wanted to create an opportunity for them - and other Bermuda enthusiasts - to own a piece of this special property," explains Reefs' President David Dodwell, who has been with the property for 35 years. "We've designed ownership at The Reefs Club to be completely enjoyable and hassle-free," he adds. "Because the residence club is fully staffed, all maintenance and housekeeping is professionally handled for our members. Most importantly, owners will enjoy the same award-winning service and hospitality The Reefs continues to win prestigious awards for."
Reefs Club owners have access to all residences in their ownership category, which expands the availability. They are welcome to visit as often as they like, according to Club reservation policies.
Canadians travel easily to Bermuda on Air Canada non-stop flights from Toronto and Halifax. Convenient connections are available from many East Coast U.S. cities offering two-hour flights to the island.
PR Contact:
Hilary Reiter
435.645.7500 x105
http://www.reefsclub.com
# # #