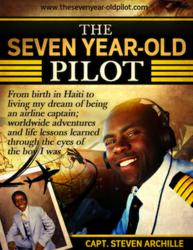 It is my sincere hope that in reading my story, you will be inspired to dare to believe that if this little Haitian boy's dreams can come true, then yours can, too.
New York, NY (PRWEB) May 11, 2012
Flying was Capt. Steven Archille's dream since before he could remember... literally. According to his Aunt Odette, she took him to the Port-au-Prince International Airport when he just was three years old, and when he saw an airliner up close for the first time, he excitedly yelled out, "I want to drive that!" Though he doesn't recall that event, it serves as evidence that his fascination with flying began at a remarkably young age.
Capt. Steven Archille's new book, 'The Seven Year-Old Pilot', published by eBookIt.com, follows Archille from his birth in Haiti, his childhood move to America that sparked his lifelong dream, flight school, and finally, his worldwide travels in the cockpit. He shares how he experienced flight for the first time when he was seven and moved to New York City. Archille knew right then and there that he wanted to be an airline pilot.
"There were a few puffy white clouds in the sky," recalls Archille about that first flight. "I wondered how it would feel to touch them. As we leveled off at our cruising altitude, I stared out at the horizon with the sun slowly setting and felt a sense of sheer wonder at where we were and what we were doing. We were flying... I felt at home."
Archille first had to navigate living in a strange land with a foreign language. He had to overcome many obstacles and learned lessons about life, love, and happiness. His family always encouraged his dream of becoming a pilot and made sacrifices to get him through college and flight school. The book describes key milestones in Archille's journey, including his first flight lesson, first airline job as a copilot, and the day he earned his four-stripes and first heard someone call him "Captain". He recounts what it was like to fly an airline jet over Haiti for the first time, looking down from thirty-eight thousand feet onto the land of his birth where his dream had been born. He takes the reader on flights over the majestic Amazon jungle in Brazil, the desert-flanked Nile River in Egypt, and the sparkling Mediterranean Sea. He describes the perils of flying through New York City blizzards, Indian monsoons, and Arabian sandstorms. He also relates his experience from September 11, 2001.
He concludes his story with an uplifting section on lessons learned. Archille hopes his new book inspires readers to find happiness within themselves instead of seeking it externally, and encourages them to live their dreams.
"I truly believe that every one of us has life experiences and lessons worth sharing that can inspire, enlighten, teach, and benefit others because we have all lived through tragedies and triumphs," says Archille. "We all have a life story worth telling and worth hearing. In that spirit, I offer you my life story... Of my dreams, my worldwide adventures, my quest for love, and the universal life lessons I've learned along the way. It is my sincere hope that in reading my story, you will be inspired to dare to believe that if this little Haitian boy's dreams can come true, then yours can, too."
'The Seven Year-Old Pilot' is published exclusively in eBook format by eBookIt.com and is now available from popular online retailers, including Amazon.com, Barnesandnoble.com, Kobobooks.com and Google Play.
About Capt. Steven Archille
Steven Archille is currently an airline captain in the Embraer–190 jet, flying around North Africa, Turkey, and the Arabian Peninsula. He still calls New York City home and returns frequently. He graduated from Ohio University in 1997 with a Bachelor of Science in Aviation and has been an airline captain since 2000, flying around many parts of the world for different airlines based in the US, India, and the Middle East. He enjoys experiencing the beauty and wonder of the world and its people, and hopes to set foot in every country on the planet before his time on Earth is done. His mom and dad have been happily married for four decades, he is the eldest of five children, and he wakes up every day, thankful to be living his dream.
About eBookIt.com
Since 2010, eBookIt.com (based in Sudbury, Massachusetts) has helped thousands of authors and publishers get their books converted to ebook format, and distributed to all the major ebook retailers, including Amazon.com, Barnesandnoble.com, Apple iBookstore, Kobo, Sony Readerstore, Ingram Digital, and Google eBookstore.