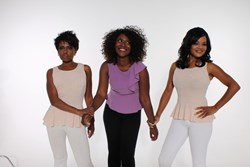 We are extremely blessed to have Richard Lyons on board as our Director
New York, NY (PRWEB) February 17, 2014
Andrea Meschel, Michelle Deukauf, and Callie Hopkins, three up-and-coming actresses, have recently launched a fundraiser on the Indiegogo website to help fund their idea for a hot new YouTube series called "The ShadyBunch." The trio hopes to raise enough money in order to produce the pilot and first six episodes of the entertaining web series, which will focus on three shades of female friendships: throwing shade, catching shade, and regular shadiness.
The series, which has been described as a dramedy and is a parody of the classic 1970s sitcom "The Brady Bunch", will follow Zoey Morgan (Hopkins), Sabrina Richardson Roberts (Meschel), and Kelsey Higgins (Deukauf) as they find themselves suddenly learning to get along in a funny, silly and challenging friendship. But instead of focusing on a blended family of six kids and their wacky housekeeper, "The Shady Bunch" will center on a group of shady sisters who are as complex and fallible as they are lovable.
Meschel, Deukauf and Hopkins realized that in order to make their dream of a web series become reality, they would have to find the needed capital. They researched how to raise money, and decided to create a fundraising page on the popular crowd funding Indiegogo site.
As they explained in the article that accompanies their fundraiser, web series on YouTube are becoming more popular all the time. Because web series are free and easy to find on the computer, people can watch them on their own time. Although some people might feel that web series are poor quality and produced shows, the three actresses contend that this is definitely not the case.
"We are extremely blessed to have Richard Lyons on board as our Director," Meschel, Deukauf and Hopkins wrote in the article that accompanies their fundraising page on Indiegogo.
"Richard Lyons has coached Academy Award Winner Jennifer Hudson (Dreamgirls) , Academy Award Nominee Queen Latifah (Joyful Noise, Hairspray, and Beautyshop) and he has directed several network shows. Now he is directing The Shady Bunch."
Anybody who would like to learn more about "The Shady Bunch" is welcome to visit the Indiegogo website at any time; there, they can read more about the upcoming web series, watch videos featuring the actresses, and how they will be rewarded for their donations.
About The Shady Bunch:
"The Shady Bunch" is a web series dramedy that follows three female friends who find themselves suddenly thrust into a challenging, outrageous, funny and crazy blended female friendship. The three actresses behind the web series have recently launched a fundraiser on the crowd funding platform Indiegogo. For more information, please visit http://www.indiegogo.com/projects/the-shady-bunch--2