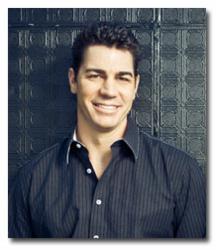 If you want to get on the learning fast track, The Talent Code delivers.
Rancho Santa Margarita, CA (PRWEB) May 08, 2013
Is talent a matter of nature or nurture? Daniel Coyle, the best-selling author of "The Talent Code," discusses how "greatness is not born, it is grown" in a new training video with fitness and personal development guru John Spencer Ellis at http://johnspencerellis.com/the-talent-code-how-to-become-really-good-at-anything/.
Coyle and Ellis share the hidden, and most important, strategies for unleashing high-level talent for personal trainers, coaches, parents, teachers and other professionals and their clients, including secrets and tools to unlocking talent.
"'The Talent Code' is one of the most important books I've ever read. After reading hundreds of books on performance, success, skill development and training, 'The Talent Code' just makes the most sense to me," said Ellis. "If you or your clients are stuck with less-than-stellar results after extensive training and practice, it could be as simple as unlocking The Talent Code.
Drawing on cutting-edge neurology and firsthand research gathered on journeys to nine of the world's talent hotbeds—from the baseball fields of the Caribbean to a classical music academy in upstate New York—Coyle identifies three key elements that will allow anyone to develop gifts and optimize performance in sports, art, music, math or just about anything. The key elements are deep, regular practice, ignition (the motivation and passion that separates high achievers from the rest of the pack) and master coaching. These work together to form myelin in the brain, a microscopic neural substance that adds speed and accuracy to movements and thoughts. The good news about myelin is that it isn't fixed at birth; to the contrary, it grows, and like anything that grows, it can be cultivated and nourished.
"Human beings are built to get better through practice and repetition," said Coyle. "When you think of Michael Jordan's jump shot, it's actually a thing of electrical beauty, of fast circuitry in action. Evolution has given us the ability to grow when tested. Struggle is good."
The video training can be viewed for free at http://johnspencerellis.com/the-talent-code-how-to-become-really-good-at-anything/.
About John Spencer Ellis Enterprises
John Spencer Ellis Enterprises is a solutions provider for fitness and coaching professionals around the world, providing education, turn-key business programs, coaching and resources for new and advanced fitness and coaching professionals. For more information about John Spencer Ellis Enterprise or to watch The Talent Code video, please visit http://johnspencerellis.com/the-talent-code-how-to-become-really-good-at-anything/.