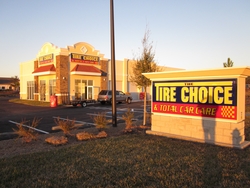 Clearwater, FL (PRWEB) March 8, 2011
The Tire Choice, Florida's fastest growing Tire & Auto Repair Super Store, opened its newest store in Riverview, located at 10742 Big Bend Road, Riverview, FL 33579 on the corner of Big Bend and 301 (next to the Starbucks). The Riverview store opened for business on January 29th. A Grand Opening Celebration is planned for the first week in April. Riverview store manager, Chad Goldenberg, is looking forward to meeting those in the community.
"This is our 31st store in Florida and our first between Brandon and Apollo Beach in the stretch across Tampa Bay from Tampa," said Dan Hennelly, CEO of The Tire Choice. "The store is convenient for shoppers looking for quality tires and state-of-the art automotive service and repairs. Our staff is highly trained and ready to service your vehicle, no matter what you drive – foreign, domestic, or exotic."
The Tire Choice welcomes the new store employees to their team. The Riverview store staff will uphold The Tire Choice's belief in treating every customer with respect and courtesy. The new store boasts 5,900-square-feet of floor space and will offer all of The Tire Choice's current selection of brands and services.
The store hours of the new Riverview store are:
Mon-Fri 7:00 am – 8:00 pm
Sat 7:00 am – 6:00 pm
Sun 9:00 am – 5:00 pm
For more information, visit the Riverview Location page or call 813-549-1813.
Tires for all types of vehicles: Passenger Cars, Light Truck, Touring, SUV, High Performance, Vans will be available through the Riverview location. The Tire Choice & Total Car Care carries the finest brand name tires such as Michelin, Uniroyal, Pirelli, Yokohama, Bridgestone, Falken, Firestone, Continental, Goodyear, BFGoodrich and Nitto. Automotive services conducted by highly trained professionals on state-of-the-art equipment cover oil changes, brakes, alignments, batteries, tune ups, A/C service, steering, suspension, cooling system, transmission, nitrogen tire inflation and many more. The Tire Choice team with their knowledge, dedication, and enthusiasm will continue to help clients maintain and improve their vehicle's performance.
About The Tire Choice & Total Car Care
The Tire Choice & Total Car Care is Florida's Fastest Growing Tire & Auto Repair Super Store. We were voted Best Auto Service by the South Lee Messenger and pride ourselves on the service we provide. We carry the finest brand name tires like Michelin, BFGoodrich, Uniroyal, Pirelli, Bridgestone, Yokohama, Nitto, Goodyear, Falken & Continental, but want our visitors to know that we are not only the right choice for tires, but for all your car care needs. Our facilities are state-of-the-art and designed to suit you.
We pride ourselves on hiring and training the best team that will go the extra mile to ensure your 100% satisfaction. We offer the finest quality name brand tires and back them by a nationwide warranty and strive to keep our locations clean and comfortable. Come visit us, you'll want to come back time and again!
###