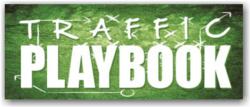 The strategies in this Playbook are stupid-simple, the raw data shows it all and it's proof that anyone at any level can use this formula to build an endless stream of traffic to their site and drive 20-100 leads to their business per day
Austin, Texas (PRWEB) November 14, 2012
Ferny Ceballos and Raymond Fong, co authors of "The Attraction Marketing Formula" and renowned SEO and Internet marketing experts, will be discussing their latest creation, The Traffic Playbook, on a webinar hosted by Magnetic Sponsoring on Wednesday, November 14, 2012, at 9pm EST. To register for this webinar, please visit http://www.magneticsponsoring.com/Traffic-Playbook-webinar
The Traffic Playbook is a 5 module program dedicated to showing entrepreneurs how to generate 20-100 leads for their home based business per day without a website. The product will be released on Wednesday, November 14, 2012, and will only be open to the public for seven days.
In this private training, Ray Fong and Ferny Ceballos, 2 traffic ninjas, will pull back the covers on their most up-to-date, lethal traffic generation strategies and share the results of their painstaking and rigorous 14 months testing of various traffic sources.
Specifically, Ray & Ferny will reveal:

WHY most people struggle and never get their business off the ground... and how to easily fix this once and for all!
How to permanently stop information overload and what you need to focus on to get the maximum results in minimum time! (most people do the complete opposite wasting their time on non-productive activities)
Their own money making capture pages and sales funnel that converts an incredible amount of leads and sales. Marketers missing this piece will waste all their efforts to get traffic that won't pay a dime, leaving them frustrated and disappointed. Most get this part wrong and completely miss the boat!
And much, MUCH MORE!
"The Traffic Playbook represents tens of thousands of dollars and 14 months worth of traffic tests," says Ferny Ceballos. "On the Magnetic Sponsoring webinar this Wednesday, we will show you the astonishing results they brought in. This information is usually kept under "lock and key" but you'll get to see the whole deal."
Magnetic Sponsoring, a company committed to helping entrepreneurs succeed in the direct sales industry, has been a beta tester with The Traffic Playbook and has yielded the following results:

170 Leads
$1.25 per Lead
Value per Customer: $65
"The Traffic Playbook is the real deal," says Nick Haubner, Marketing Manager with Magnetic Sponsoring. "The strategies in this Playbook are stupid-simple, the raw data shows it all and it's proof that anyone at any level can use this formula to build an endless stream of traffic to their site and drive 20-100 leads to their business per day!"
To sign up for The Traffic Playbook Webinar with Ferny Ceballos and Raymond Fong on Wednesday night at 9pm EST, please visit http://www.magneticsponsoring.com/Traffic-Playbook-webinar