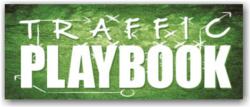 For the first time in 4 years, since the Google Slap, people will have consistent and reliable traffic strategies they can use to drive traffic directly to existing affiliate offers, online bizop systems and replicated lead generation sites
Austin, Texas (PRWEB) November 10, 2012
Ferny Ceballos and Raymond Fong, co authors of "The Attraction Marketing Formula" and renowned affiliate marketing experts, are releasing The Traffic Playbook, a 5 module program dedicated to showing users how to generate 20-100 leads for their home based business per day without a website on November 14, 2012 for seven days.
But what is the Traffic Playbook and will it really assist home based businesses with lead generation?
"For the first time in 4 years, since the Google Slap, people will have consistent and reliable traffic strategies they can use to drive traffic directly to existing affiliate offers, online bizop systems and replicated lead generation sites," says Ferny Ceballos. "We've tested and tested and tested these strategies over the past year and spent well over $10,000 in R&D fine-tuning our process."
Magnetic Sponsoring, a company committed to helping entrepreneurs succeed in the direct sales industry, has been a beta tester with The Traffic Playbook and has yielded the following results:

170 Leads
$1.25 per Lead
Value per Customer: $65
"The strategies in this Playbook a stupid-simple," says Nick Haubner, Marketing Manager with Magnetic Sponsoring. "The raw data shows it all and it's proof that anyone at any level can use this formula to build an endless stream of traffic to their site."
There are a total of 5 modules to this program:

Module 1: Secret Sauce – Keyword and Market Research
Module 2: SEO – Get 10 Targeted High Quality Leads per Day FAST! Research
Module 3: Pay-per-View (PPV) – Get 30-50 High Quality Leads per Day – Easy!
Module 4: Bing PPC – Get 20 – 30 High Quality Leads per Day – Easy
Module 5: Facebook PPC – Get 10-20 High Quality Leads per Day Fast
"The Traffic Playbook is the real deal," continues Mr. Haubner. "There's no fluff, it's well focused, and it's simple to use. Anyone can implement this program and drive 20-100 leads to their business per day, everyday!"
To view the first video in their video series titled 'The Traffic Bootleg', please visit http://www.magneticsponsoring.com/get-more-traffic-video1