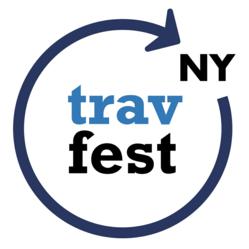 The demographic we're going for sees travel as an extension of life, not as a way to escape from it. We're trying to reinvent the travel show.
New York, NY (PRWEB) April 16, 2013
This weekend, on April 20 and 21, 2013, the New York Travel Festival casts its inaugural spell on the New York metropolitan area. Conceived of and given shape as something more inspiring and more anchored in place than the typical travel event, it aims "to reinvent the consumer travel show for a crowd seeking more interaction and a better sense of NYC and beyond."
As part of the New York Travel Festival's maiden offering, The Travel Word, a well-established showcase for responsible, sustainable and local travel content, is presenting a panel entitled 'Responsible Travel: It's More Than What You Do with Your Hotel Towel.'
The first of a series of conversations in the Travel Festival's Niche Breakout space, the responsible travel panel takes place from 10:30am to 11:15am and involves Anna Clark, Communications Associate from the Rainforest Alliance, and Alice Gugelev, Founder of the Do Good As You Go Movement, along with Ethan Gelber, Founder and Editor of The Travel Word.
"It was a natural fit to include The Travel Word in the Festival, both as a media sponsor and panel host," says Roni Weiss, Founder of the New York Travel Festival. "Ethan Gelber, its founder and editor, is bar-none the most dedicated and qualified person I know in the field of responsible/sustainable travel, so I implicitly trust any content he would create on the topic."
Touch Base... Indoors
With the advent of the New York Travel Festival, the standard-model consumer travel show has been issued a challenge, all the more so because of the assembly of people that has come together to urge consumers to take new things into account when they travel.
"The demographic we're going for sees travel as an extension of life, not as a way to escape from it," reports Weiss. "We're trying to reinvent the travel show for people who are tired of the convention-center, booth-based model. We find that younger travelers are consistently concerned with the 'authenticity' of their experiences."
The first day of the New York Travel Festival is Saturday, April 20, and takes place at Bohemian National Hall on the Upper East Side of Manhattan. There, attention will be directed to "an array of speakers, panelists, tastings, and other experiences."
Not unlike a big-tent circus, there will be three rings. On a smaller stage, the Niche Breakout space of which The Travel Word's panel is a part will play host to other topic-specific discussions for people passionate about beer travel, food in NYC, solo travel for women and gay travel.
Meanwhile, the main stage will welcome travel luminaries, as well as contests, debates and more. The morning keynote will be delivered by Andrew Evans, National Geographic's Digital Nomad, paving the way for words of wisdom from travel writers like Matt Gross, David Farley and Jason Cochran, travel media leaders from Travel+Leisure, AFAR, the Matador Network, Skift and Gadling, and travel personalities like Valarie D'Elia (of Travel with Val) and Robert Reid (of Lonely Planet).
In parallel with this, there is a Local/Regional Breakout space devoted to New York City and vicinity, where more panels and presentations will bring to life the hidden treats of the NYC metropolitan area. Associated with this is Taste of the Hudson Valley, a showcase of entrepreneurs, restaurateurs and experts offering culinary, cultural, and outside attractions.
Keep It Local… Outside
On Sunday, April 21, everyone heads into the streets to come to firsthand grips with what makes NYC tick. In line with a passion for going local, throughout the day 11 tours touch base in all five boroughs and help festivalgoers get under the hood of different parts of the city.
"Part of our pedigree is local travel, as a package ticket includes tours in NYC, all done by smaller companies with many focusing on otherwise unseen experiences," shared Weiss.
For foodies, there's a pizza experience, a peek behind the curtain of NYC's alcoholic drink industries, discovery of Williamsburg's Moore Street Market, a trawl along Brooklyn's Smith and Court streets restaurant scene or and a sampling of Queens' ethnic neighborhoods.
Urbanscapes buffs won't want to miss a trip to the Brooklyn Navy Yard, Manhattan's Highline Park or the great sights of the Bronx, including Yankee Stadium. And for something entirely different, 'unforget' Staten Island or discover the busking scene of the NYC underground.
"After all, a travel festival in New York City should have something to do with New York City, right?" concluded Gelber. "Visitors will see a side of town that many don't take time for; New Yorkers will find themselves marveling at stuff they never knew was right under their noses."
The New York Travel Festival takes place April 20-21, 2013. The Travel Word readers are now entitled to a special 30% discount on tickets through Thursday, April 19 at 5pm ET. That's $52.50 for the weekend instead of $75, or $105 for the VIP package instead of $150.