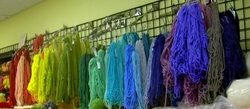 Christmas period is the time of the year when people need more money and the creation of these jobs couldn't come in much better time
(PRWeb UK) November 29, 2010
The UK Knack Group has learned that Dunelm Mill will be opening its 100th store located in the Switch Island Leisure Park, leading to the creation of almost 100 new jobs.
The new store will open its doors to the public on December 2. This comes at a great time for those people who at the moment are out of work in the area, as they will be able to get a job before Christmas.
The company is excited to have built their newest superstore in the area because they believe that they will be able to offer the best customer service and the best products that are even available in the area.
"Christmas period is the time of the year when people need more money and the creation of these jobs couldn't come in much better time" commented the Managing Director of the UK Knack Group. "This is a sign that we are recovering from the crisis, although slowly, but in a steady way".
Anyone would be hard-pressed to not find what they might need for their home in this super store. Dunhelm Mill could almost challenge anyone to walk through their store and look at all of the merchandise or look for specific things for their home and not find what they need. They are that confident that this store is going to be one of the best things to hit this area in a long time.
About The Uk Knack Group
Built on decades of experience the Knack team consists of some of the most experienced professionals in the UK and abroad who have helped thousands of businesses and people to be more successful.
###