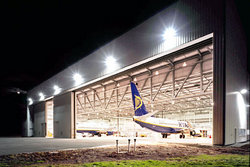 This is a great example of how to encourage young people to do their best when studying at college
(PRWeb UK) October 23, 2010
James Watt College was in charge of offering the NC Aeronautical Engineering Program, which lasted 20 weeks. 10 students finished this course and all of them were offered a job interview by PAML. From these 10 students, eight were offered a job position within the company.
The hiring of these new staff comes at the same time as the completion and opening of the second hangar owned by PAML. This new hangar will create 200 new jobs in Ayrshire.
"This is a great example of how to encourage young people to do their best when studying at college" said the Managing Director of The Uk Knack Group, the well known executive careers consultancy based in Leeds. "Young people are eager to start work as soon as they finish their studies and initiatives like this one are what we need in order to boost our job market".
The program that allowed these students to get these jobs was first piloted in 2003. The NC Aeronautical Engineering Program was designed to provide training to local unemployed candidates in order to get the skills they needed to work within the Aircraft Maintenance Sector.
"We would welcome more collaborative work between companies and colleges in order to offer our young people and students better chances to get into work" commented the Managing Director of The Uk Knack Group.
So far, the success of this program has led more than 40 trainees to gain employment within the aerospace sector.
About The Uk Knack Group
Built on decades of experience the Knack team consists of some of the most experienced professionals in the UK and abroad who have helped thousands of businesses and people to be more successful.
Press release distribution by Reputation 24/7. Online PR, Reputation Management and Online Reputation Management.
# # #